As the movie approaches its December 18th release, we'll be seeing a lot of news (and pseudo-news) about James Cameron's Avatar. Always one to join the bandwagon, here are a couple of tidbits from the last day or so.

First, there's a new featurette on Yahoo's Taiwanese site. There's some new clips and quick interview snippets, and the entire plot is given away, so enjoy. The video is not embeddable (at least for me), but you can check it out here.

Next, we have the first details about the film's soundtrack. It will be released on December 15th and included a song titled "I See You" by the lovely Leona Lewis, which is apparently the film's theme. Here's the official press release from Atlantic Records:
Atlantic Records has announced the upcoming release of AVATAR: MUSIC FROM THE MOTION PICTURE, the official score album companion to Oscar®-winning filmmaker James Cameron's upcoming epic adventure. The album – which features music composed and conducted by Academy Award®-winner James Horner (Titanic) and the film's title song, 'I See You', performed by multiple Grammy® Award-nominated singer Leona Lewis – will be released December 15th (December 14th internationally) and is currently available for pre-order at AvatarScore.com . Twentieth Century Fox releases AVATAR in theatres everywhere on December 18th.
Like it says, go to AvatarScore.com to pre-order and to see the track names, which may be a bit spoilerish.

Thanks to Film School Rejects, we have three new Japanese TV spots and a new photo of Zoe Saldana as Neytiri: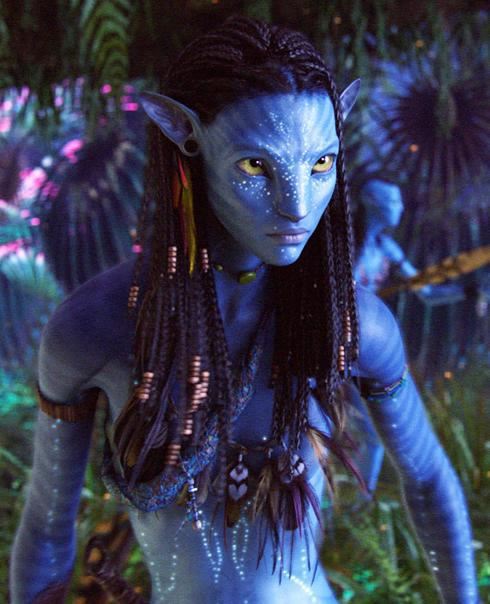 The TV spots make me laugh because of the contrast of the harsh Japanese being spoken over the soaring music and elegant images. Check out TrailerAddict for all the videos, but the one below was the funniest to me and has a few seconds of never-before-seen footage:




James Cameron's Avatar opens worldwide December 18th in Digital 3D and IMAX 3D. For more information on the film and its viral campaign, check out our Avatar Page.