To me, 2010 is looking to be a great year for movies. There are alot of films that i really must see. Kick-Ass, however, is THE movie to see this year, at least for me. I have loved the comic ever since i read it back in 2008. I loved the mix of humor and ultra-violence. Kick-Ass is without a doubt one of my alltime favourite comics. So it was with great expectations that i sat down at the movies a couple of hours ago.

Kick-Ass is about Dave Lizewski, an average high school student who spends his time talking about comics with his friends or pleasuring himself in his room. One day Dave decides to fulfill his one long time dream, to be anything else but average – the superhero Kick-Ass. Dave's career as a superhero starts up kind of slow at first. It's just him walking around in his home made superhero suit. His first action as a superhero is disastrous, putting Dave in the hospital. But that doesn't stop him. One night he is filmed while saving a guy from a gang beating and becomes a Youtube Sensation. His newfound super hero fame attracts the attention from a father/daughter vigilante pair, Big Daddy and Hit Girl. Not only that, he also attracts the local mafia, and his superhero journey takes a turn that he never expected.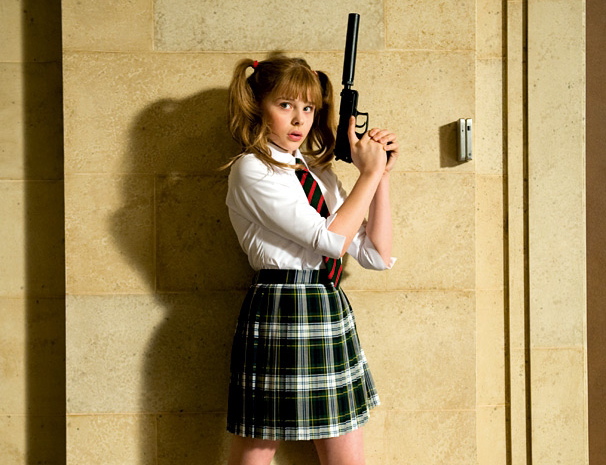 Kick-Ass is directed and co-written by Matthew Vaughn, the director of Layercake and Stardust. Kick-Ass is played by Aaron Johnson (Nowhere Boy), Nicholas Cage plays Big Daddy and does one of his best acting in years, and Chloe Moretz plays Hit-Girl, the 10 year old super assassin who i believe will be remembered for this role for a very, very long time. Hit-Girl is by far my favourite character in the movie. Mark Strong plays the bad guy and Christopher Mintz-Plasse (Superbad) plays Red Mist, another superhero.

Before watching the movie, I had some fears that the comic would be impossible to transfer to the cinema. Even though there are some differences between the comic and the movie, I really loved what Vaughn did with it. He found the perfect mix of violence and humor that Mark Millar has in the comic. Be warned, this movie is violent. Really violent. The fact that most of the best violence is made by a ten year old just makes it even more awesome. Kick-Ass is not the best movie i have seen, but it's a great movie, especially if you like comics, superheroes and ultra-violence.

I give Kick-Ass a 4/5, go watch this movie or i'll kick your ASS!