The upcoming magician heist film, Now You See Me, has a new viral marketing trick up its sleeve. With the upcoming release of the star-studded thriller, they've launched a new viral campaign, where you find hidden cards on the internet to unlock special content. Find out after the break how you can be a part of the magical search.
Called the Diamond Heist Challenge, the viral campaign involves 13 diamond playing cards that are hidden somewhere in Now You See Me posters, photos and even a crossword puzzle. Once you find these cards, you can use the augmented reality app Blippar to scan the picture and unlock exclusive content such as movie clips. You can get a further explanation on how the Challenge works in the video below:
Luckily, the Now You See Me site does give you hints on where to find all 13 cards. For instance, the given clue for the 5 of diamonds is:
Look on this film blog for the next card. Here's your hint: /
The answer, of course, is the site Slashfilm. They posted this picture on their blog which includes a 5 of diamonds image.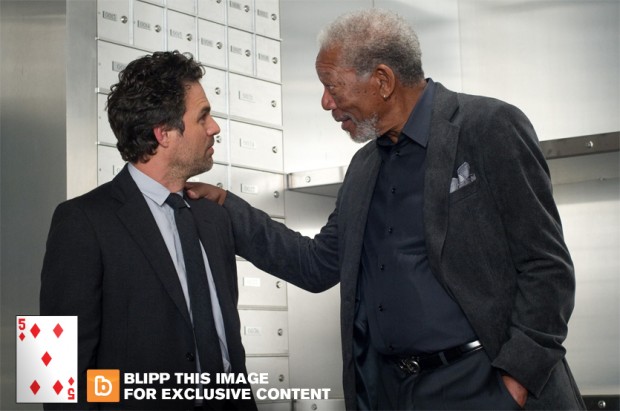 To find out more details about the Diamond Heist Challenge including the other 12 clues, you can check out the movie's official site. You can also like the movie on Facebook and follow them on Twitter. You can download the free Blippar app via iTunes or Google Play.
Directed by Louis Leterrier, Now You See Me magically appears in theaters on May 31st. The movie stars an all-star cast of Jesse Eisenberg, Woody Harrelson, Isla Fisher, Mark Ruffalo, Dave Franco, Mélanie Laurent, Michael Caine and Morgan Freeman. The movie synopsis is as follows:
NOW YOU SEE ME pits an elite FBI squad in a game of cat and mouse against "The Four Horsemen", a super-team of the world's greatest illusionists. "The Four Horsemen" pull off a series of daring heists against corrupt business leaders during their performances, showering the stolen profits on their audience while staying one step ahead of the law.
Let us know if you find any more of the hidden cards. Post your finds in the comment section below.