2014 is coming to close, which means it's that time of the year again, where we post the best and worst of the year. Of course that means we have to look forward to 2015, and it will be quite a year. There are plenty of comic book films, sequels, prequels, reboots, and a few original projects to look forward to, and we have our list right here. Obviously there are films like Spectre, Avengers: Age Of Ultron, Star Wars: The Force Awakens, and other blockbuster films, but there are also films like The Hateful Eight, Silence, Southpaw, and more.
We will also include a couple of honorable mentions to let you know that 2015 in film is much more than superheroes, disturbances in the force, two Pixar films, and other fancy blockbuster tentpoles. Hit the jump to see what flims your favorite staff writers from MovieViral are anticipating to see.
First up, our honorable mentions.



The Man From U.N.C.L.E.
I love Henry Cavill. There, I said it. I think he has been sheltered in the shadows for far too long, and I am extremely happy to see him blow up after Man of Steel. It seems 2015 might be the year of the spies, as this marks yet another spy filled adventure. Guy Ritchie directs, and if his Sherlock Holmes films proved anything, it's that the man sure knows how to entertain an audience. The Man From U.N.C.L.E. opens August 14. (Conor Behrens)


Entourage
The HBO comedy series gave us a look into the life of a rising star in Hollywood. It was at times gripping and really engaging and the series finale was bittersweet. Now an actual movie is coming out to hopefully give more closure to the series. Entourage opens in theaters on June 2, 2015 (Caleb Hamliton)


Kitchen Sink
A movie about humans, vampires and zombies who all have to band together to fight aliens? I'm there. The script to this film was originally touted on the famous Black List. The horror comedy stars Vanessa Hudgens, Ed Westwick, and Bob Odenkirk. It will be released in theaters on September 4, 2015.(Christopher Moore)


Kingsman: The Secret Service
I can't remember the last time my jaw dropped while watching a trailer, but the footage we've seen from Matthew Vaughan's latest looks fantastic. His signature frenetic style, coupled with a great cast that includes Colin Firth and Samuel L. Jackson, should hopefully make this an early 2015 treat. The film opens February 13. (Alex Gerage)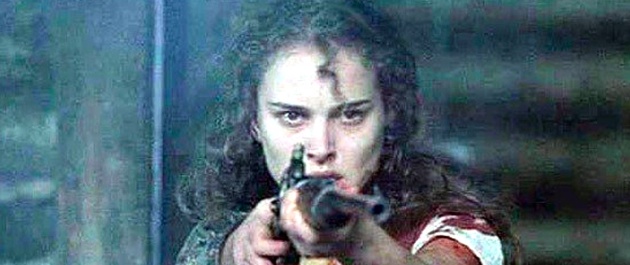 Jane Got A Gun
The Natalie Portman-starring vehicle western has been through production hell and back. The script by Brian Duffield, which appeared on the 2011 Black List, had an all star cast lined up, with talent like Michael Fassbender, Jude Law, and Bradley Cooper starring at some point in time. But due to the scheduling conflicts, and other behind-the-scenes problems kept the film's production at near halt. But the idea of seeing Natalie Portman as yet another strong female character in a western is already exciting enough, and has gotten my interest. Directed by Gavin O'Connor, Jane Got A Gun opens September 5. (Michael Lee)


Southpaw
Southpaw is another film that should be on your radar. The Antoine Fuqua-directed sports drama was written by Sons of Anarchy creator Kurt Sutter. Film star Jake Gyllenhall looks to give yet another riveting performance as the film's lead. In fact the image above shows just how dedicated he is to the role. Unrecognizable, beaten, and bloodied, I can't wait to see what Gyllenhall does in this one. The film also stars Rachel McAdams, Naomie Harris, Forest Whitaker, Victor Ortiz, Tyrese Gibson, and Miguel Gomez. No official release date has been set.
Continue on to MovieViral.com's Top 20 Most Anticipated films of the year.