Are you tired of our Comic-Con News Round-Ups yet? Too bad, we have more! First of all, San Diego has tons of parties for the convention, and THR has a pretty thorough list. Also, if you are a fan of SyFy's Defiance or Warehouse 13, we'll be doing some interviews with the cast and crews, so head to Reddit to give us the questions you want to be asked. After the break, we have news on a few things, including a free cereal bar, Domo collectibles, and more.

The King of the Nerds Cereal Bar will be open to the public from 8 AM – 4 PM Thursday, July 18 – Sunday, July 21. The cost is FREE. Guests will encounter a long wall of cereal dispensers containing a vast array of breakfast favorites. A branded commercial-grade milk dispenser will top off bowls
· 32 different types of cereal
· 20 different toppings
· 5 milk options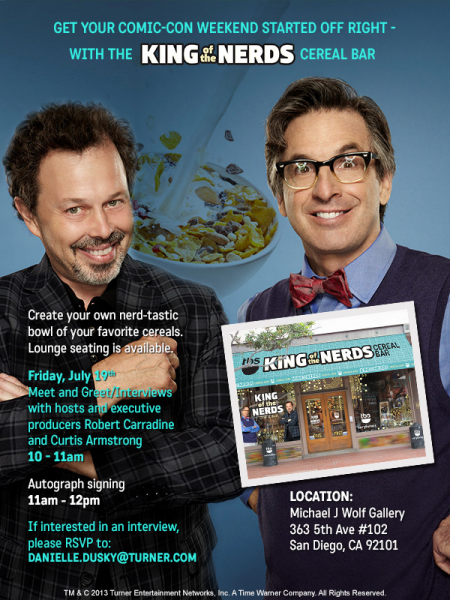 SHOUT! FACTORY GOES DIGITAL AT COMIC-CON 2013 WITH MOBILE CONVENTION FAN APP

*  *  *  *  *  *

LAUNCH OF SUPERHERO TIME MACHINE APP

*  *  *  *  *  *

SUPERHERO COSTUME GALLERY

*  *  *  *  *  *

Shout! Factory to Track Most Popular Superhero Costumes at Comic-Con International 2013

LOS ANGELES – July 12, 2013 – Shout! Factory, a leading multi-platform media company devoted to producing, uncovering, preserving and revitalizing the very best of pop culture, will go digital at this year's Comic-Con International convention, with its first-ever convention mobile app.  Partnering with July Systems to use its mobile web platform, Shout! Factory's unique web app will enable fans to have an enhanced mobile experience at the show. Available at www.ShoutFactory.com/SDCC13, fans will be able to discover new Shout! Factory releases, watch new release trailers, take photos from the show, make purchases and more.

This mobile app will also serve as the platform for the official launch of Shout! Factory's Superhero Time Machine, the newest iOS app from the team behind the immensely popular Video Time Machine app.  Featuring more than 2,000 hand-selected videos, Superhero Time Machine allows users to watch the evolution of their favorite superheroes through the years, via videos dating as far back as 1941.

In addition, Shout! Factory will launch the "Superhero Costume Gallery" through its convention mobile app.  By submitting their own photos, as well as photos of others dressed in amazing superhero costumes, fans in attendance at Comic-Con 2013 will be able to create a real-time digital census of which superhero costume is most represented at the convention.

"This unique digital initiative is a great way for Shout! Factory to share its passion for Comic-con with our many loyal fans as well as make it easy for attendees to keep up with all our activities," said Jeffrey Thompson, Shout! Factory's Vice President of Digital Strategy & Business Development. "Plus our Superhero Costume Gallery is a great way to kick-off the Superhero Time Machine app, an experience we've carefully curated because of our love for the genre."

Participants in the "Superhero Costume Gallery" will also be able to download a free version of the Superhero Time Machine and become eligible to win a super-huge superhero giveaway courtesy of Shout! Factory.

Shout! Factory features a robust lineup at Comic-Con International 2013 with offering a special panel event, five film screenings, a showcase of new home entertainment products, Comic-Con exclusive items, prize sweepstakes, surprise star appearances and engaging fan interactive activities.  Moreover, Shout! Factory invites fans and convention attendees to join in on the excitement surrounding Shout's 10th anniversary celebration at the Shout! Factory booth (#4248) on the main convention floor.  Fan-favorite screen icons and comics legend scheduled to attend this incredible pop culture gathering with Shout! Factory include: Adrienne Barbeau, Len Wein, The Aquabats, and other notables. Shout's resident geek guru Brian Ward, and Scream Factory's resident horror aficionados Jeff Nelson and Cliff MacMillan will be on-hand for meet and greets.

 

 

About Shout! Factory

Shout! Factory, LLC is a diversified multi-platform entertainment company devoted to producing, uncovering, preserving and revitalizing the very best of pop culture. Founders Richard Foos, Bob Emmer and Garson Foos have spent their entire careers sharing their music, television and film favorites with discerning consumers the world over. Shout! Factory's digital, DVD and Blu-Ray™ offerings serve up feature films, classic and contemporary TV series, animation, live music and comedy specials in lavish packages crammed with extras.  Shout's audio division boasts GRAMMY®-nominated box sets, new releases from storied artists, lovingly assembled album reissues and indispensable "best of" compilations.  In addition, Shout! Factory has developed a strong digital business featuring TV, Film, Music, Comedy, Animation and other genres of entertainment offerings released through digital distribution partners or distributed direct to consumers across multiple digital platforms. Shout! Factory also owns and operates Timeless Media Group, Biograph Records, Majordomo Records and HighTone Records. These riches are the result of a creative acquisition mandate that has established the company as a hotbed of cultural preservation and commercial reinvention.  Shout! Factory is based in Santa Monica, California. For more on Shout! Factory, visit shoutfactory.com

About Superhero Time Machine

Superhero Time Machine is the newest app from the team behind the immensely popular Video Times Machine app, which features more than a century of movie clips and trailers, commercials, TV broadcasts and other forms of video in one app.  An extension of Video Time Machine, which Shout! Factory acquired from Original Victories Inc. in June 2012, Superhero Time Machine features more than 2,000 videos allowing users to watch the evolution of their favorite superheroes through the years from videos dating as far back as 1941. Categories of videos include Accidents, Aliens, Animals, Experiments, Gadgets, Heroines, Magic, and Teams, all of which can be seamlessly shared across users' social media channels. Superhero Time Machine is a universal iOS app that runs on the iPad, iPod Touch and iPhone mobile devices and is airplay enabled. Shout! Factory'd other Video Time Machine apps include Political Time Machine, which features video content like candidate's speeches, and Holiday Time Machine, which offers holiday-themed clips, commercials, animation and music. For more on Superhero Time Machine or to download it, visit http://bit.ly/184kazB.

About July Systems

July Systems is redefining how businesses go to market with mobile. July's award-winning cloud-based mobile application platform is used by some of the world's best-known brands to reach more than 140 million users in 150 countries and deliver billions of transactions annually. July MX, the company's 4th generation platform, is a first-to-market self-authoring mobile experience platform for creating and publishing mobile sites and applications quickly, without reliance on coding skills or technical expertise. Started in July 2001, the company is headquartered in San Francisco with offices in Bangalore, New York and London.
It's a bird, it's a plane…it's Domo!

Earlier in the year pop culture sensation Domo took flight alongside some of DC Comics' most admired Super Heroes with the "Domo X DC" line of unique 4" Super Stylized Pop! Vinyl Collectible Figures from Funko (in partnership with Warner Brothers Consumer Products). Now just in time for San Diego Comic-Con (SDCC), Domo is about to suit up one more time with a pair of special limited edition collectibles featuring the Man of Steel and Dark Knight!

Priced at $15, Domo "Man of Steel" will feature the viral meme posing as the latest big screen incarnation of the comic icon. Based on the new "Man of Steel" movie, this collectible figure puts Domo in the same costume worn by Henry Cavill in this summer's box office smash. At the same time Funko will also unveil for $15, Domo "Batman" Metallic, a new and sleek look that will serve as a fun variant of the original "Batman" Domo and a great addition to "Dark Knight" Domo.

DC Comics won't be Domo's only ally during Comic Con…get ready for another team up with Dark Horse for the limited edition introduction of "Caveman Domo," which retails for $9 and is part of the company's successful Qee line of 2" figures.

Fans can also take home two new plush versions of the viral icon with the white "Indomitable Abominable Domo" & green "Electric Slide Domo." From Big Tent Entertainment and only available at SDCC, the products are available for $20 each or combined for $35.