The new film, The World's End, is almost upon us and because it's the third movie in Edgar Wright's "Cornetto Trilogy", it's only appropriate that they give some love to the film that started it all: Shaun of the Dead. On The World's End site, you can now pull up an interactive screenplay of the zombie comedy classic. Find out many of these interactive features after the break.
Besides getting some insight on what the screenplay for Shaun of the Dead looked like, we also get glimpses of some of the story process through the writers' story flipchart. If you've ever seen any of the special features of Shaun of the Dead or Hot Fuzz (the second film in the "Cornetto Trilogy"), then you will know that writers Edgar Wright and Simon Pegg map out much of the story elements in flip chart form. From the story beats to a breakdown of elements of a scene, they're pretty methodical about every aspect of the story. Here's  a page from their flip chart which shows list of elements to possibly use during their first encounter with the undead girl in the backyard: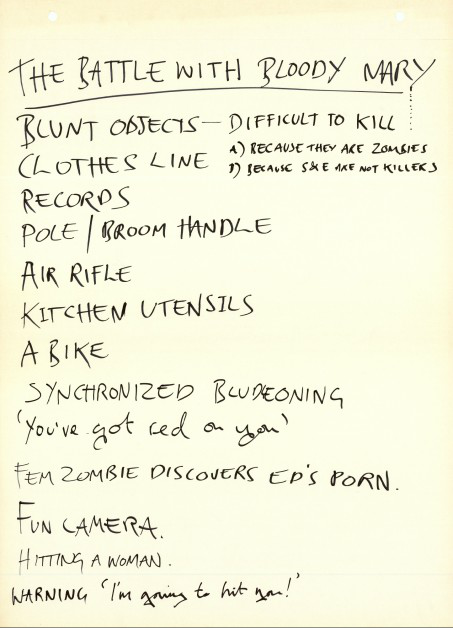 Along with a few pages from their flip chart, there are also storyboards of scenes as well such as this one from that same scene: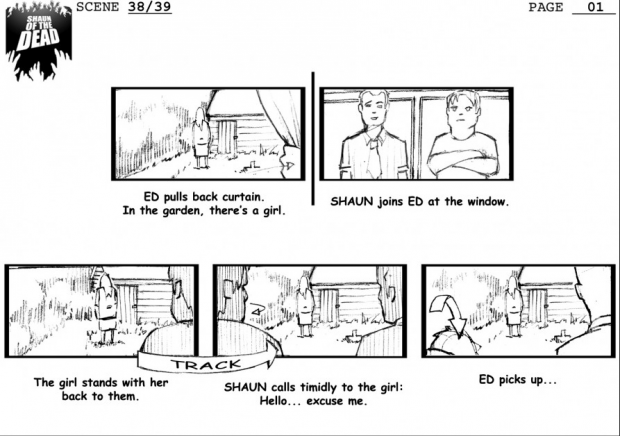 They have clips of these storyboarded scenes from the movie, so you can compare these storyboards to the final scene in the film. The interactive script also gives you some behind the scenes pictures throughout and towards the end you'll get some cast and crew interviews about the movie.
Of course, this is just a small taste of all the interactive content for the script. You can check out the full script and it's interactive features at the Focus Features site for The World's End here.
The World's End hits theatres on August 23rd.
If you want, you can like the film on Facebook, follow news about the film on the Focus Features Twitter and see a few videos about the film on their YouTube channel.