Marvel fans who somehow were not content enough to receive first looks at Captain America: The Winter Soldier and Guardians of the Galaxy, as well as the name unveiling of The Avengers: Age of Ultron at Comic-Con should take solace in the upcoming D23 Expo being held this weekend at Disneyland in California. Many assumed the studio did not show their entire hand at Comic-Con, that more announcements are on the way, and now we have received our first teaser for what one of them may be. Hit the jump for more.
The official Marvel website updated today with a rather perplexing teaser image, seen below. Judging by the brief announcement that accompanies the image on the Marvel page, it appears that attendees to the Expo will have the chance for a first look at a brand new project, so long as they first ask for, "Something weird." Just what said first look entails, and what it is a preview of is open to speculation.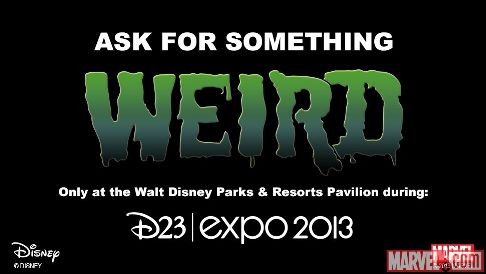 There is very little in the way of evidence that points to what the teaser means. Initially, I assumed it was a Marvel property being launched in some Disney arena, such as another Marvel cartoon on the Disney XD channel or a new Marvel-themed attraction at one of the parks. But as the folks at Comic Book Resources speculate, there is nothing to suggest in the teaser that the reverse could not be true, and they provide some convincing evidence that this could be a Disney property getting the Marvel comics treatment. Does that make you more or less excited?
I am definitely confident that we have not seen the last of the pre-D23 Expo teasers this week. With the event beginning this Friday, I think it is reasonable to expect at least one a day to keep the buzz building. That leaves plenty of opportunity for fans to have their emotions messed with thinking about what the future holds for Disney and Marvel.