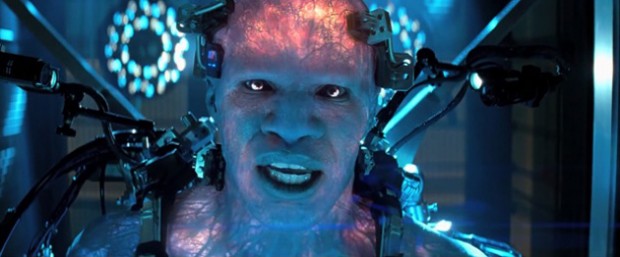 The first trailer for The Amazing Spider-Man 2 dropped last week, and at first glance there were no hidden links that appeared during the trailer's 2:41 runtime. But that depends on what kind of resolution you are seeing it at.
In the days after it was announced that Spider-Man would be participating with the New Year's Eve Ball drop at Times Square in New York, there appears to be a link that everyone missed in the trailer. This hidden link reveals a countdown leading up to the December 31st date. Hit the jump to what it leads up to.
SuperheroHype discovered the link, and learned that you had to watch the trailer at 1080 HD around the 2:06-2:07 mark, to find ElectroArrives.com site. The site will take you to an overhead shot (security camera point of view) of Harry Osborn (Dane DeHaan) looking at security cam footage of what looks like birth of Max Dillion (Jamie Foxx) becoming Electro on his touch screen desk. On the touch screen you can clearly see that there is a countdown (which reads at 20 days from this post).
Now it makes sense that it would coincide with the New Year's Eve events. Sony is expected to reveal new footage from The Amazing Spider-Man 2 that was never seen before, in the trailers or SDCC, on that date. But for those who may not be able to stay up or see the ball drop in New York, the ElectroArrives.com site may be the outlet that reveals the new footage.
Here is The Amazing Spider-Man 2 trailer just in case. Remember you must watch it at 1080 HD for the ElectroArrives.com site to appear.
What do you guys think?

The Amazing Spider-Man 2 stars Andrew Garfield, Emma Stone, Chris Cooper, Paul Giamatti, and more. Directed by Marc Webb, Sony will release the films into theaters on May 2, 2014.