There are many smart phone apps that allow you to experience the movie in a whole new way, hether it is a game or a photo splice.  To help promote the upcoming release of Captain America: The Winter Soldier, Marvel has released the Captain America Experience, an app that gives smartphone users the opportunity to put Captain America himself in a photo of their choosing.  After that you can share the photo with your friends and family all over your social network.  
Not only that, but if you share the photo on Instagram and Twitter with the hashtag #CaptainAmerica, you will be entered to win a chance to be part of one of ten cities to see Captain America: The Winter Soldier in its entirity before the film's April 4 release. Hit the jump to get more details.
To enter the contest you must have the Captain America Experience app downloaded on your smartphone (it will soon be available to those who use Androids). Simply by following the onscreen instructions, you should be able to upload the photo of your choosing almost instantly. The app provides a one of a kind photo experience where Captain America himself will be popping out just like you would see him do in a 3-D movie.
Here is a photo of the list of cities that are eligible for the early screening.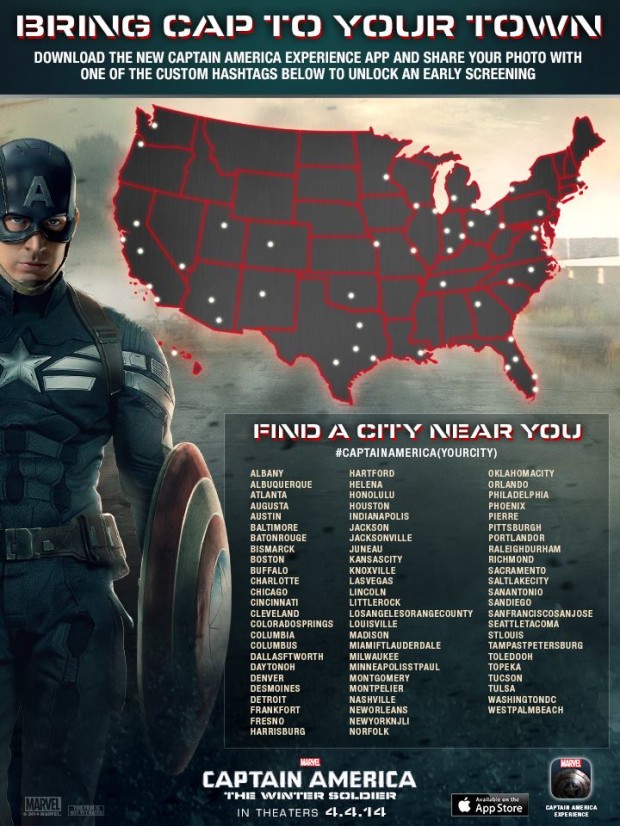 After the cataclysmic events in New York with The Avengers, Marvel's "Captain America: The Winter Soldier" finds Steve Rogers, aka Captain America, living quietly in Washington, D.C. and trying to adjust to the modern world. But when a S.H.I.E.L.D. colleague comes under attack, Steve becomes embroiled in a web of intrigue that threatens to put the world at risk. Joining forces with the Black Widow, Captain America struggles to expose the ever-widening conspiracy while fighting off professional assassins sent to silence him at every turn. When the full scope of the villainous plot is revealed, Captain America and the Black Widow enlist the help of a new ally, the Falcon. However, they soon find themselves up against an unexpected and formidable enemy–the Winter Soldier.
Opening in theaters on April 4, Captain America: The Winter Soldier stars Chris Evans, Scarlett Johansson, Samuel L. Jackson, Sebastian Stan, Anthony Mackie, Robert Redford, Emily VanCamp, Frank Grillo, and more.