As much as I liked Paul Feig's last directorial effort, Bridesmaids, I didn't have high expectations for his follow-up feature, The Heat. The trailer had some good laughs, but I wasn't sure about the pairing of Bullock and McCarthy. Boy, was I totally wrong. This film is one of the funniest films I've seen in a long time and much of that is due to their iron clad comedic chemistry. After the jump, find out why I feel The Heat is one of the funniest films of the year.
The Heat stars Sandra Bullock as uptight FBI Special Agent Sarah Ashburn, a woman who is great at solving cases but not so good with making friends in the bureau or even outside of work. She's definitely not a good team player. She's like a socially inept version of Simon Pegg's Nicholas Angel character from Hot Fuzz. While chasing after an elusive but ruthless drug lord, she's reluctantly partnered with foul-mouthed Boston Cop, Shannon Mullins (Melissa McCarthy.) Mullins is the total opposite of Ashburn's by the book mentality. She verbally abuses people on a daily basis including her own Police Chief. She's not adverse to physically threatening suspects. She has a no holds barred approach to her job. She's like a jerkish mixture of Lethal Weapon's Riggs and Beverly Hills Cops' Axel Foley with a pinch of Dirty Harry thrown in for good measure. Joining forces to bring down the bad guy, the two outsiders become the one thing no one thought possible: friends.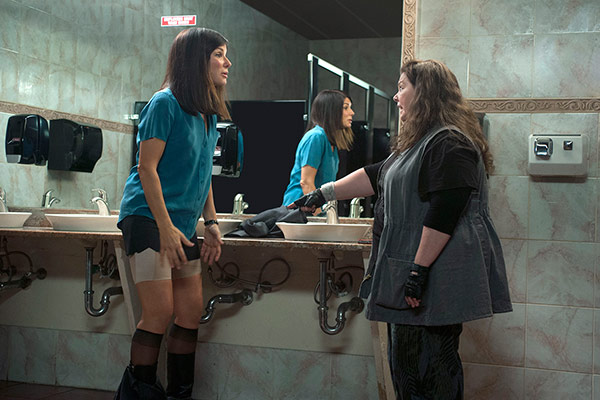 The buddy cop genre has always been primarily male-dominated. The Heat shows that two women can be just as successful at the genre as any guy. Much of the credit has to be given to McCarthy and Bullock. They work so well together. They play off of each other's comedic instincts and physicality with such ease. Plus, they're surrounded by a great number of supporting characters that add so much to the hilarity of the situations in the film.
Thomas F. Wilson's neutered and stressed-out police captain is a nice antithesis to the pissed-off captains you normally find in most buddy comedies. Mullins' dysfunctional Boston family includes a menagerie of different talents from Jane Curtain (3rd Rock from the Sun, SNL) to Michael Rapport(Hitch, True Romance) to Backstreet Boys' Joey McIntyre. Dan Bakkedahl's albino surveillance cop character adds a good bit of laughs to the picture. The insults that get thrown back and forth between him and McCarthy's character are priceless. There's also some nice cameos by Marlon Wayans (Scary Movie, G.I. Joe: Rise of Cobra), Kaitlin Olson (It's Always Sunny in Philadelphia), Tony Hale (Arrested Development), Michael McDonald (MADtv), Taran Killam (SNL) and Chris Gethard (The Office, The Chris Gethard Show).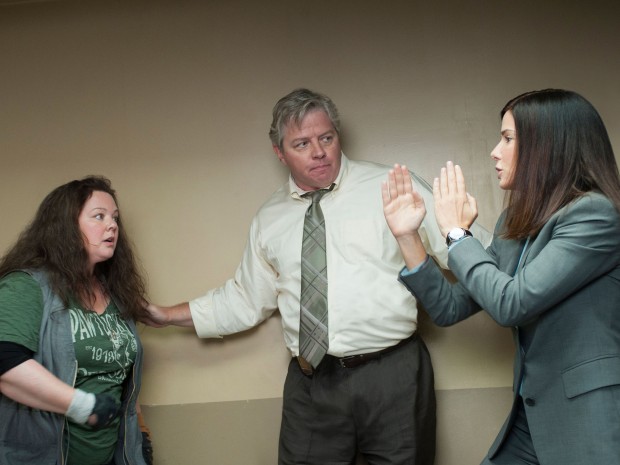 Insults between characters are the backbone for the majority of the laughs you find in the film. Much of this is thanks to writer Katie Dippold who is no stranger to comedy. Her resume includes writing for MADtv and Parks and Recreation. Of course, the amount of abusive repartee in the picture seems like there could have been a good bit of dialogue improvisation. If you've seen the outtakes and behind-the-scenes stuff from Bridesmaids, this is a process that director Paul Feig is very familiar with. Regardless of what was planned on the page or made up on the spot, it will be interesting to see all the deleted scenes and extra takes that didn't make it into the final theatrical cut.
The only minus someone could take away from the film is the lack of huge action set-pieces. Unlike it's buddy comedy predecessors, the film doesn't have a huge amount of destructive car chase scenes or big flashy high-end locales, but it does have it's fair share of explosions and shoot-outs. Of course, most buddy comedies are overshadowed by the pyrotechnics and stuntwork, but the strength of this film is the character interactions. Plus, even though the movie is a comedy, it doesn't belittle the abilities of McCarthy and Bullock's characters just because they're female. Despite their quirky and off-putting qualities, the female duo are good at what they do and they can kick anybody's ass in a heartbeat.
With Bridesmaids, Paul Feig showed that women can do gross-out comedies just as well as the guys. With The Heat, we have a buddy cop comedy that rivals many of the best ones from the 80's and 90's and probably has more laughs per minute than many of those male-oriented action pair-ups. The teaming of Bullock and McCarthy is a match made in comedy heaven. I haven't laughed more in the theater this year than I have with this new twist on the buddy cop genre. If you're looking for a comedy to see this summer, The Heat is the perfect action comedy to target your funny bone with bullet precision.
The Heat hits theaters on June 28th.
Rating: 5/5