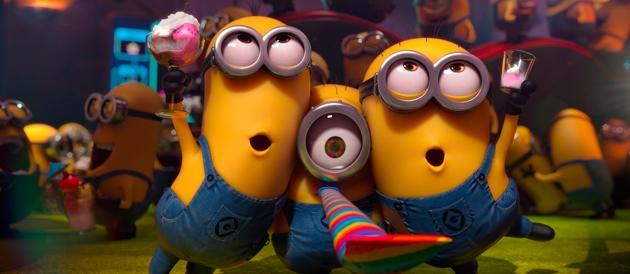 The more things change, the more they stay the same. But that may not necessarily be a bad thing for Despicable Me 2, mostly because those yellow minions are always doing some sort of wacky slapstick comedy that is guaranteed to make you laugh. That's right Gru, Margo, Edith, Agnes, and those yellow minions are back for another go-around. While it may not be for villainous purposes, but the spirit of the first Despicable Me is still there, and the characters are still very fun to watch on screen.
Gru (Steve Carell) is now retired villain spending his time being a great dad to his three adoptive daughters. Now in the business of making a "new line of jams and jellies," Gru pulled back into the villain game when he is forcefully recruited by the young and enthusiastic Lucy Wilde (Kristen Wigg) of the Anti-Villain League. His assignment: retrieve a stolen formula that transforms any living being into mindless indestructible soldiers, which is believed to be hidden in a strip mall that shopaholics and food court enthusiasts can only dream of. Based in a tiny cupcake shop, Gru believes the once dead El Macho (Benjamin Bratt) is the culprit. The story is that El Macho died riding a shark that was strapped with explosives into an active volcano. So the two continue their investigation to find out if El Macho is their man and the formula itself.
You will notice that the formula that made the first Despicable Me so much fun really hasn't changed all that much in Despicable Me 2. That's because they brought the behind the scenes crew from the first film back for the sequel. Chris Renaud and Pierre Coffin are back directing with Chris Meledandri and Janet Healy stationed at the producers helm. But a lot of the credit goes to writers Cinco Paul and Ken Dario, for penning a script that actually showed some character growth, something you don't often see in an animated sequel. It wasn't the most innovative script, but it does show enough character growth to keep the audiences interested.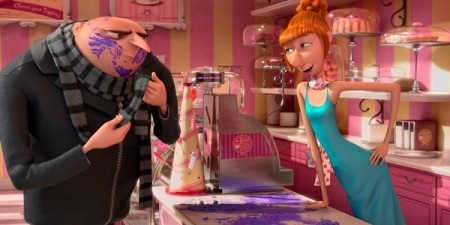 The animation in the film is definitely top notch. The colors in the film just pop, giving the 3D a little bit more pizazz. The animators did a great job using the 3D to great detail. The opening sequence for example will give you a look at how vast an Arctic base can really be. Certain points in the film involving water you'll notice that it looks like you are looking at the film through a fish tank. And of course their are the gimmicky pop out things, but there isn't too much of that in the film.
While the voice cast didn't record their voices together, the work is still pretty much impeccable. Carell never phones the work in, you start to believe that he is a mopy guy with a sad clown disposition. Then there is Wiig, who is really such a joy to listen to, who brings in enthusiasm and the kind of energy that is needed to counter Gru. Bratt, known more for his dramatic work, makes comedy look very easy. The other cast members do a fine job, but it's Carell, Wiig, and Bratt that really bring it all home.
As does Pharrell with yet another ingenious mix of eclectic music. It's the kind of bubble gum pop music that any kid would love, that isn't offensive or demeans the younger audience's intelligence. In fact, older members of the audience will find themselves tapping their feet along to the music.
Despicable Me 2 isn't in the business of trying to be grounded. You got cars that transform into underwater modes of transportation, freeze rays, lipstick tazers, and even jelly guns. All of them, except the lipstick tazer, look oddly shaped and something that would probably never fit in a real person's pocket, but does for these characters. Basically it's what Monsters University did by paying homage to those great fraternity comedies, Despicable Me 2 is doing for spy films like James Bond or Get Smart.
While the human characters can be fun to watch, it's the minions that are the real stars of the film. Everything they do serves some sort of purpose and will have an effect later on in the movie. Kind of like how the floating minion was seen just rising closer towards the atmosphere in the first one, there is something very similar to that in Despicable Me 2. Be sure to always look around when they appear, because even in the back ground, these minions are doing something hilarious.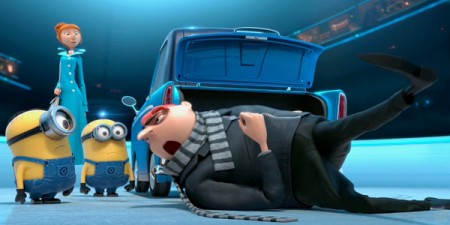 And the writers never got overly crazy with that, and wrote a story that older audiences can relate to, you know, so they can make a film that they can actually enjoy and sit through, despite it being somewhat unoriginal. But they have very little restraint when it comes to some of the characters themselves, and I don't mean their mannerisms. Watching Gru struggle to make a call to ask Lucy out on a simple date is not only as frustrating in real life, there are people who can relate to his reaction. Then there is the fact that he compensates his single life by eating some a tortilla chip-shaped sombrero that is filled with guacamole. There are the other moments where he tries to be an overprotective father, avoiding a neighbor's incessant need to provide him with dates. The film is balances the wacky crazy slapstick action with some of the stories that many of us can relate to.
But there are racist undertones in this film that simply cannot go ignored. El Macho is a fine name, but tries too hard too tell the audience that he is Mexican. Mexican flag his tattooed on his hairy chest, his heavily rich Mexican accent, he is the proprietor of a Mexican restaurant in a strip mall, and even owns a home that is built like something you would find in Mexico. He even masquerades as an el luchador. But Ken Jeong's unceasing need to do his Asian shtick is getting very boring very fast. One doesn't need to interject the boorish eastern Asian accent over and over again. It certainly has no place in an animated film like Despicable Me 2.
Despicable Me 2 is a fun piece of work that outshines the original. While the story isn't entirely fresh, and slightly racist, the film has plenty of humor and eye-popping animation to get you through the ride.
Rating: 3/5