The short film social cinema site, Blinkamovie, now has a mobile extension of it's online content. Find out more about the site and what its mobile app offers after the break.
The site Blinkamovie is what they describe as "social short story cinema." You can watch short stories for free and create online "story sessions" that you can watch together with your friends. Along with the normal free content, there are some short films that are offered on a pay-per-view basis. You can normally access their site in a few seconds using your Facebook account or via an email sign-up.
As a mobile extension of the site, Blinkamovie just released an android app called Storypod Short Films. There's no mention if or when they plan on making an iOS app for it yet. The mobile application offers 200 high quality short films and a synchronized short film tv-channel for free. All the short films are pre-selected among thousands to guarantee the best quality. Films are on average 7 minutes long and all are story-based short films.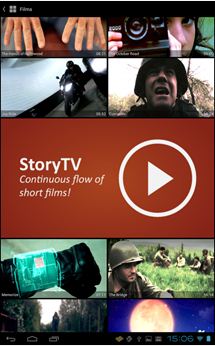 You can download the app at this Google Play store link here. If you'd like to learn more about Blinkamovie and its short movie collection, you can check out their site for more details. The official Storypod Short Film site can be found here.
Have you checked out their site or their app yet? What do you think about it? Leave your thoughts in the comment section below.