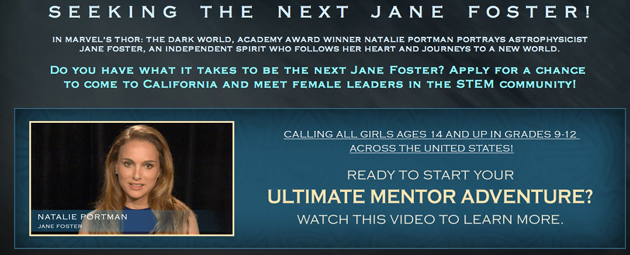 Being a geek is no longer synonymous with being a dude. That has changed, and now a new contest to promote Marvel Studios' Thor: The Dark World will give young girls the chance to become the next Jane Foster. Just don't expect a date with Thor.
MARVEL'S THOR: THE DARK WORLD ULTIMATE MENTOR ADVENTURE is a contest being held by Marvel Studios, in coordination with UL (Underwriters Laboratories), Dolby Laboratories, National Academy of Science, Girl Scouts USA along with the famous El Capitan Theatre in Hollywood, that looks to empower girls 14 years and up, in grades 9 – 12 nationwide. For more on this contest, hit the jump.
It only seems fitting that Natalie Portman be the fact of this contest, with her character being a smart sassy scientist with a demi-god for a boyfriend. In the introductory video we see Portman explain who her character is, and her love of science and how her role gave her amazing opportunities to explore science and all its possibilities.
This contest will girls will have a chance to go out into the real world and ask successful women in science, technology, engineering, or math (STEM) fields about what they do, how they got where they are…and how others can follow in their footsteps. The process is designed to help students to understand who they are, and why this experience can be impactful on their futures.
Pretty exciting stuff am I right? Okay so how do you enter. Well the contest is looking for girls across the United States who are currently enrolled in grades 9-12. Applicants will be given tools to help identify STEM mentors in their community. These mentors will help applicants create a video about their experience. The best videos will be chosen by a team of STEM experts.
If your video is chosen, you will spend a one week trip to California and meet powerful women working in STEM fields. Winners will also be able to participate in experiments and interactive activities, which includes going to places where the general public is not allowed to step foot.
And all of this ends with an opening day screening of Thor: The Dark World.
For more information and form applications, head on over to http://www.ultimatementoradventure.com.

Good luck.