With the Flipboard app users can create their very own vitual magazines on any subject they want and share them with the world. Now Fox is using the app to create a virtual tourbook into the new Ben Stiller film, The Secret Life of Walter Mitty. Exploring everything from new posters, new trailers and related real world events and/or themes, the Walter Mitty Flipboard has everything you need to prepare for his adventure. Details after the break.
The Walter Mitty virtual magazine covers a range of topics that are more directly related to Mitty's life in the film than just articles about its production. Photography and vacation spots for the more adventurous are at the forefront of film and in the Flipboard you will find articles on magazine cover artist Scott Markewitz and adventure photographer Tim Kemple, as well as some tips on the best trails to hike around the world.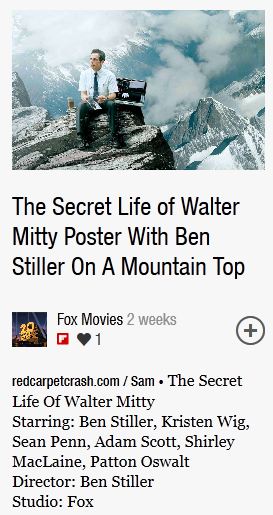 You will also find articles on daydreaming, celebrity tweets and other stories related to the actors in the film. If you find the life of Walter Mitty interesting, chances are you will get a lot out of his Flipboard magazine. Head on over to the Walter Mitty Flipboard page now by clicking this link and start flipping to discover your own possible secret life.
You can also download the Flipboard mobile app for either iTunes or Android by clicking the links and start experiencing everything Flipboard has to offer beyond Walter Mitty and his secret life.