Well this pretty much guarantees that Guardians of the Galaxy won't be at Comic-Con this year. Not too long after a Guardians of the Galaxy preview debuts at Disneyland on July 4th, Marvel Studios has announced that a 17 minute preview of the film will be hitting 150 IMAX screens across North America on July 7th. Guardians of the Galaxy: An IMAX® 3D First Look will feature thrilling, never-before-seen IMAX 3D footage of the James Gunn-directed epic space adventure.
Check out the Guardians of the Galaxy's official Facebook page to get your tickets.
Hit the jump to see what Gunn had to say about the preview and and a look at a cool new poster from the film.
"We've re-mastered some of our epic sequences into the IMAX 3D format, taking the scope and scale to new heights while creating a truly immersive, cinematic experience that will take you further into the Marvel Universe than ever before."
Here is a look at the new poster.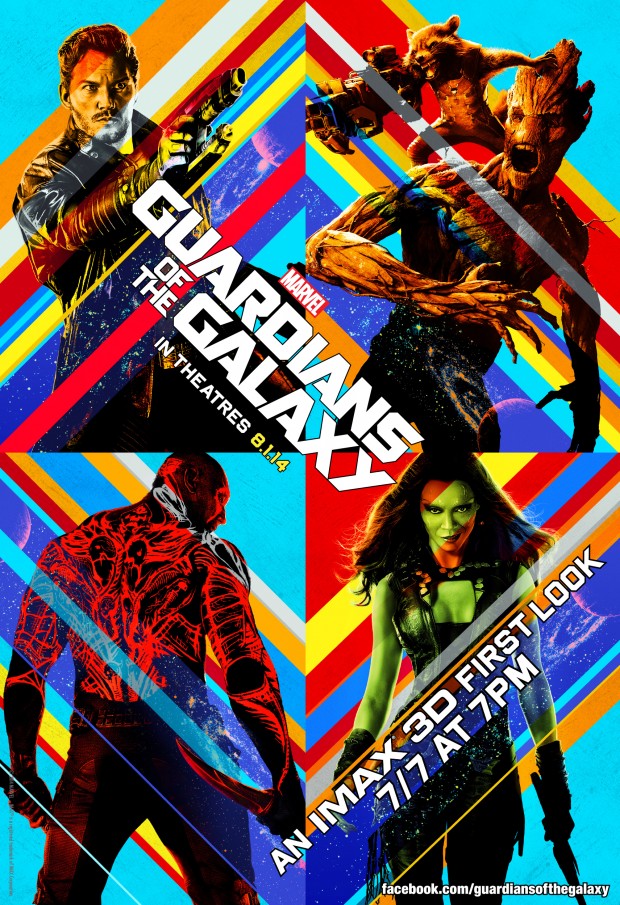 Directed by James Gunn, Guardians of the Galaxy stars Chris Pratt, Zoe Saldana, Dave Bautista, Lee Pace, Karen Gillan, Djimon Hounsou, John C. Reilly, Glenn Close, and Benicio Del Toro with the voice talents of Vin Diesel and Bradley Cooper. The film opens in theaters on August 1.
An action-packed, epic space adventure, Marvel's "Guardians of the Galaxy" expands the Marvel Cinematic Universe into the cosmos, where brash adventurer Peter Quill finds himself the object of an unrelenting bounty hunt after stealing a mysterious orb coveted by Ronan, a powerful villain with ambitions that threaten the entire universe. To evade the ever-persistent Ronan, Quill is forced into an uneasy truce with a quartet of disparate misfits—Rocket, a gun-toting raccoon, Groot, a tree-like humanoid, the deadly and enigmatic Gamora and the revenge-driven Drax the Destroyer. But when Quill discovers the true power of the orb and the menace it poses to the cosmos, he must do his best to rally his ragtag rivals for a last, desperate stand—with the galaxy's fate in the balance.