The Teenage Mutant Ninja Turtles trailers stresses that New York City needs heroes. The obvious rise in criminal activity carried out by The Foot Clan is a clear indication of that. So, now is your chance to prove just how heroic you are, by showing your turtle power to the world, or your friends on social media at least.
Paramount has unveiled their latest marketing gag, where you get to don the ninja mask. Blue, Purple, Red or Orange, which color do you think best suits you? To TMNT Yourself, you'll have to hit the jump to see how you can be a hero.
It is a pretty simple and fun page to play around with, you'll just have to head to the TMNT Yourself page to get started. All you have to do is take a photo of yourself or upload from an image from your computer or Facebook page. After that, all you have to do choose which color you think suits you, and then scale, move, rotate, or twist the mask to the position to best fits on your face. After you can either save the image on your computer or post it on your Facebook page.
And then you would have just proven you are a hero in a half shell. Here's an example: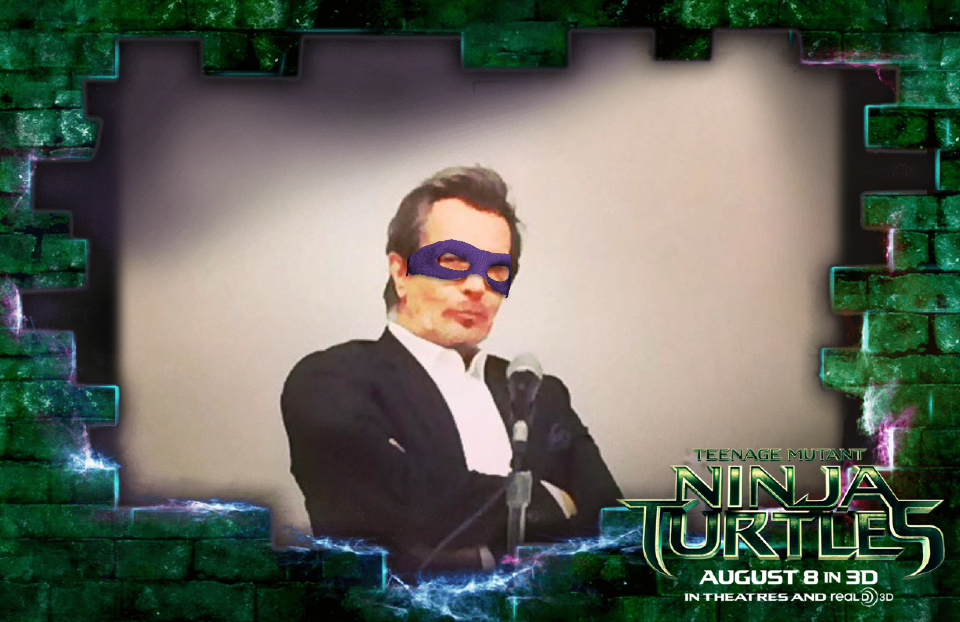 The city needs heroes. Darkness has settled over New York City as Shredder and his evil Foot Clan have an iron grip on everything from the police to the politicians. The future is grim until four unlikely outcast brothers rise from the sewers and discover their destiny as Teenage Mutant Ninja Turtles. The Turtles must work with fearless reporter April O'Neil (Megan Fox) and her wise-cracking cameraman Vern Fenwick (Will Arnett) to save the city and unravel Shredder's diabolical plan. Based on the Teenage Mutant Ninja Turtles Characters Created by PETER LAIRD and KEVIN EASTMAN with a Screenplay by JOSH APPELBAUM & ANDRÉ NEMEC and EVAN DAUGHERTY, Producer MICHAEL BAY (the blockbuster Transformers franchise) and director JONATHAN LIEBESMAN (Wrath of the Titans) bring Teenage Mutant Ninja Turtles, the popular franchise that has captivated audiences of all ages for decades, into the 21st century.
Teenage Mutant Ninja Turtles in theaters August 8th.