It's been while since we have covered a Batman-related viral website. And while we unfortunately are not reporting on the start of the viral marketing campaign for Batman v. Superman: Dawn of Justice, another major Batman property has offered up a tease for fans. The Gotham Chronicle, Bruce Wayne's hometown newspaper, has just released its online edition, and those anticipating Fox's upcoming Gotham television series will want to catch up on the news. Read on for more.
Exploring the Gotham Chronicle website reveals 10 news stories that showcase the large cast of characters featured in the Gotham television series. The newspaper's headlines range from "Brutality Charges Against GCPD Detective Dropped," featuring a picture of Harvey Bullock, to "Feral Cat Population Out of Control," which is a subtle nod to young Selina Kyle's character. My favorite story is "Security Cam Reveals Dark Dealings at Mooney's Bar," which includes security camera footage of a very angry Oswald Cobblepot taking a cane to a poor Gothamite outside Fish Mooney's club.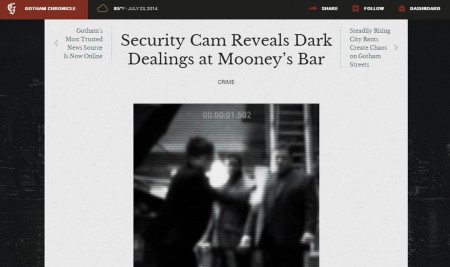 Now, if you still prefer reading your news in print, you are in luck.  The Hollywood Reporter is reporting 5,000 copies of the Gotham Chronicle's "first issue" will be distributed to fans during San Diego Comic-Con this weekend.
I haven't seen or heard anything thus far to temper my excitement for Gotham. The trailer and promotional clips released promise a dark and moody series that perfectly fits with the Batman universe. The Gotham Chronicle viral site does a great job reinforcing that tone, both in the design of the page, as well as in the content it offers to readers.
Gotham premieres on Fox on Sept. 22. Will you watch? Let us know in the comments below.