In anticipation for the release of The Boxtrolls, LAIKA has created a new marketing campaign that should get moviegoers more excited for the film.
To help promote the film, "the studio has teamed up with ad agency Wieden+Kennedy to create this "magic mirror" standee that uses an X-Box Kinect interface." This was first reported by Mashable.
Standing in front of the standee, a lovable creature wearing a box will appear before you. Making any sort of motion from jumping, arm and leg waving, the box covered character will copy your movements. It even mimics facial gestures. Hit the jump to check out some images of the film.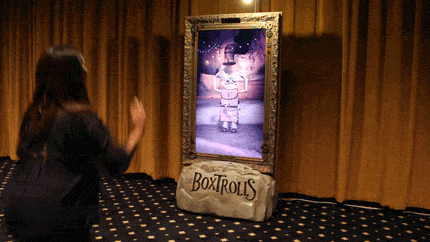 There are multiple Boxtrolls in the interactive standee, all with different personalities, which means, you can have all kinds of fun.
Directed by Anthony Staachi and Graham Annable, The Boxtrolls stars Ben Kingsley, Toni Collette, Elle Fanning, Isaac Hempstead-Wright, Jared Harris, Simon Pegg, Nick Frost, Richard Ayoade, and Tracy Morgan. It opens in theaters September 26.
A family event movie from the creators of "Coraline" and "ParaNorman" that introduces audiences to a new breed of family – The Boxtrolls, a community of quirky, mischievous creatures who have lovingly raised an orphaned human boy named Eggs (voiced by Isaac Hempstead-Wright) in the amazing cavernous home they've built beneath the streets of Cheesebridge. When the town's villain, Archibald Snatcher (Academy Award winner Ben Kingsley), comes up with a plot to get rid of the Boxtrolls, Eggs decides to venture above ground, "into the light," where he meets and teams up with fabulously feisty Winnifred (Elle Fanning). Together, they devise a daring plan to save Eggs' family.