With The Guest hitting limited theaters this weekend, producers of the film is looking for a way to get the word out on the film's release. And what better way to do some free marketing then to hand out a free soundtrack from the film. All you have to do is tweet a photo of yourself with a ticket stub for The Guest using the #theguest. But the offer won't last long, in fact it only lasts from September 26 – September 28, that's this weekend, only.
Hit the jump to see more about the offer.
Directed by Adam Wingard, and written by Simon Barrett, The Guest stars Dan Stevens, Maika Monroe, Leland Orser, Sheila Kelley, Brendan Meyer and Lance Reddick.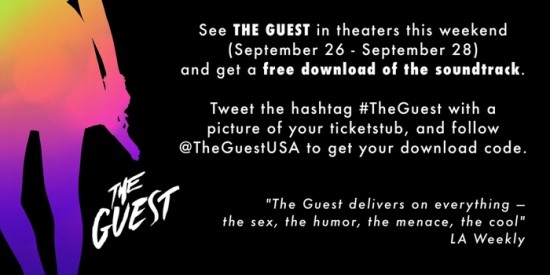 Here's a trailer:
Synopsis:
David is the perfect guest. Friendly and helpful, this young soldier arrives on the doorstep of the Peterson family, claiming to be a good friend of their beloved son who died in action. The Petersons welcome David into their home and into their lives, but when people start mysteriously dying in town, their teenage daughter Anna starts wondering if David is responsible. Distributed by Picturehouse, THE GUEST visits theaters Wednesday, September 17th. Let us know if you'll be letting him in.