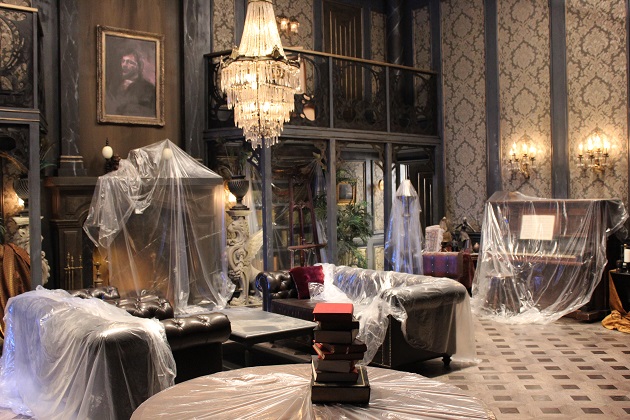 Legendary and Guillermo Del Toro's collaboration with Youtube culminated with a Halloween party to celebrate the programming created from the horror shorts submitted to the House of Horrors competition. Creators, attendees were able to tour the  Crimson Peak sets that were used in the films produced from the horror initiative with a few surprises. Guests danced the night away while also getting a chance to have tequila tastings, speak with psychics and watch screenings of the entries at the party.
We got to talk check out an entry to the competition from BlackBoxTV, the eerie multidimensional short "Versions of Elloise" during production and here is the spectacular finished product and be sure to check out the interview below with the filmmaker about the future of genre on the web.
BlackBox TV's Tony Valenzuela shared with us his enthusiasm for the future of Horror on YouTube, participating in the program and where he drew his inspiration from for the production.
MovieViral: How did Legendary and Guillermo Del Toro's House of Horrors initiative with YouTube come to your attention and what inspired you to take part in it?
Tony Valenzuela: I read about it. Whitney Milam is a writer that I work with, she sent me the Variety article and was like, 'You HAVE to do this!' but I was like my film is still in post and we're just finishing it up and we did something with New Form (Ron Howard, Brian Grazer's Digital Studio) And I was like, 'There's no way we could do this, this is impossible.' There's no way–just timing wise. And then I saw the sketches for the set and I was like 'Well, Tony this is one of your favorite directors in the world.' I remember seeing The Orphanage and being like this guy's involved with a team of people who have a vision about genre or horror and that's just where I enter it. I enter genre from the emotional side because I think if you enter these massive worlds of the fantastical, if there's not the heartbeat in the center that's human–it's Power Rangers, it's this big fun thing. I connect always to the people first. It's so interesting to walk here onto these sets and be like 'Oh my god, these sets are glorious!' And then I was like, 'We must cover them all. They must start dusty and dirty and plastic covered. That way when we present it, it's something really special. Luckily, it lined up with our story. I rewrote the script after we walked the sets.
So was it based upon a pre-existing script or did you guys create a pitch for it?
TV: We created a pitch for it and I work with a couple different writers and I was like 'This is a solid story, this is really, really cool…' Then when I saw the sets I was like, '…but let's add this stuff' The parents are missing for a year and this house is in transition. We got it back to this beautiful place, she's back at the house and they're talking about getting it ready to go for her to move on and sell it. I did this movie called Vellisca, it's a really scary true story, its a really disturbing one and really special one. I've been doing horror since 2008 and that was sort of my finishing of the sentence which was that I always say the movie is about ghosts. Both the imaginary kind that people talk about and the ones that we carry around with us every day. I was in post and I called all of my actors and I was like, 'Thank you so much, this was an intense movie'. It was so dark and I think the subject matter was so dark. So after that was finished I think that it ended my sort of searching for the truth. And I very much got into the idea that I am not looking for truth anymore. I'm looking for narrative. This is something I've been saying a lot lately. We're sitting here talking to each other right now but we're bringing in a completely different experience to this specific conversation. The truth is only what we've brought to the conversation so when you're doing a short film there is no truth. Only narratives floating around. With this project 'Versions of Elloise' the idea is very much about dealing with different versions of truth for the same character. To make it a bit simple: it's portals, dimensions, that kind of stuff but for me it's really to get across the point what we're looking for in life, we're looking with.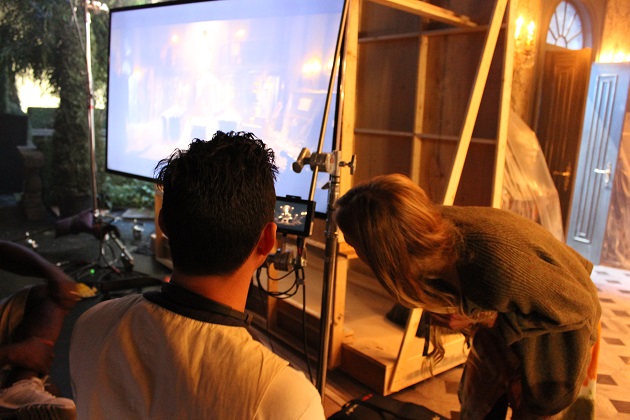 That's fascinating! And tell me more about how BlackBox TV utilizes the digital platform for genre storytelling and how you came into the fold in it's creation.
TV: It's 2008. My job is cool but I feel very unsatisfied. To be completely honest, I had just had this big break up, my family was having all these sort of personal problems. I'm looking out the window working advertising going like, 'I don't understand. Was this why I was an artist?' All these things just coalesced and I just got angry. I got really angry and really frustrated. A writer always has to be frustrated because you have to be that to go: 'You're not doing that right!' I have something to offer, let me offer this piece that's missing from your world. The world is missing something, the world is missing my voice and I need to get my voice into action and into creation. And that's what it was like in 2008. I like vomited all this anger and all this frustration and all this fear I had going on. I created what is now called a web series but for me then it was a story because at the time I could only do bits. I could only afford to do little bits. I went 10,000 dollars into debt on my credit  cards and I created this thing and suddenly people were saying you're a part of this community.
How do you hope that this partnership through Legendary and Youtube can bridge the gap between digital online media and film?
TV: I think it's really special, what's going on right now and I was talking to John Green at VidCon. He was like this is trip Hollywood is really paying attention to us and I said to him, 'No, no we're just becoming better storytellers. So the stories we tell are of this time and of this moment. It's just that we're telling them on YouTube. We're not making music videos like they were doing in the 90's, we're making our content for YouTube. I just feel really excited that Legendary and Guillermo Del Toro are paying attention to this movement that I'm just a small piece of and that there is a place like YouTube Space LA where you gets these amazing sets. So for me I feel like I've won when I walked on set to be quite honest. I get to do this as an artist. That's for us.
Check out BlackBoxTV on their YouTube channel for the latest in genre filmmaking on the web and the rest of the House of Horrors entries on Legendary's channel.