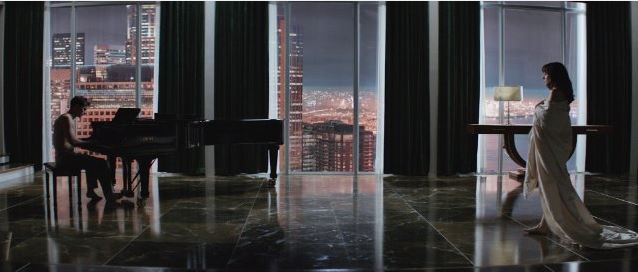 In Fifty Shades of Grey, bland and bookish Anastasia Steele gets whisked into the the fantasy world of the handsome and rich Christian Grey only to find he has a particular set of desires he wants her to endure. She naively goes along with it hoping to win his heart. You may have heard of this one, the soft-core book that was originally a  work of Twilight fan fiction. Well, now it's a movie brought to us from Universal and directed by Sam Taylor-Johnson.
Penned by Kelly Marcel (Saving Mr. Banks) the script and direction navigate the the high notes of the fifty shades of dumb source material. Two talented women were given a task and they managed to piece together a very careful adaptation that grazed the surface of an awfully written book. The cinematography was great, in particular the red hue of the contract negotiation scene. It was smart of them to cut out that excess crazy from the book to tell the story of a clearly tormented man and the woman who pries him open. The book and movie are known to explore the BDSM world but really it shows how much Grey is not put together enough to correctly follow that lifestyle. His past issues and need to control things interrupt the careful rules of a culture that is not accurately represented by the male lead. The creative team did an excellent job at detracting from that to just show how this man's walls were deteriorated by a woman.
Dakota Johnson played Anastasia and was actually charismatic and delivered a fun, cheeky and self-aware performance. The same could not be said about Jamie Dornan who spent the whole movie looking quite uncomfortable. There was no confidence or commitment to go full Grey. The pair lacked chemistry and had zero tension. So while one half of the leads seemed to put in an effort to the 'I can't believe they're saying this' script, the other didn't. The film was fun but missed the crazy enough to be a guilty pleasure mark mostly due to Dornan. And Grey had the most bonkers lines that should have at least been delivered with some sort of gusto. "I don't make love, I fuck…hard" "Later, babes" are just some examples.
The biggest issue with Fifty Shades is that the book it's based on treats a world the many practice safely (within the limits of practitioners). as if its torture inflicted because of mom issues and taken because you'll receive love if you do. No matter how well Taylor-Johnson and Marcel tried to avoid that, it's pop culture presence carries that fatal flaw. (Spoilers) The ending attempts to rectify that and if the films don't continue, it can be seen in retrospect as a stand alone where Anastasia goes there and then walks out on that life.
Grade: C-