The Buzz is a feature in which we round up the Top 3 most-buzzed-about movie/TV stories of the week (in more-or-less chronological order). Why go through pages of blogs just to find out what everyone is talking about? We've got it all right here in The Buzz.

1) "Man of Steel" and "Justice League" News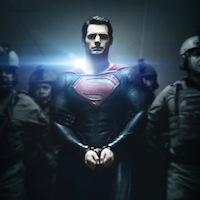 With the first full Man of Steel trailer expected to hit theaters next week with The Hobbit, Warner Bros. introduced a new poster for the film to keep the hype going. In said poster, Superman is handcuffed with military people around him. It's definitely got people talking, but not everyone likes it, from the low quality to the idea of Superman being constrained by mere handcuffs. From what I've seen at Comic-Con and other sources, I'd predict that he is allowing himself to be detained by the US military, but the image quality is still an issue for me. We also got a rumor this week that the villain for the Justice League movie will be none other than Darkseid. Not exactly a stretch, so don't be surprised if this is one of the few rumors that actually becomes true for the superhero team-up film. Lastly, Christopher Nolan talked about The Dark Knight Rises and Man of Steel, saying of MoS director Zack Snyder, "I think people are going to love what he's done".
2) "Star Trek Into Darkness" Media Blitz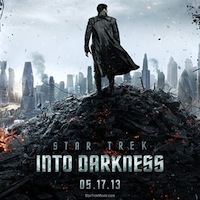 This week is apparently Paramount's marketing kick-off for Star Trek Into Darkness, as we got both our first poster and an "announcement video" that is a 1 minute teaser. Paramount also provided a list of which IMAX theaters would be showing the 9-minute preview before The Hobbit, but unfortunately is looks like only the "LieMAX" screens are doing it. The big discussion is still over who the villain, played by Benedict Cumberbatch, will be. The teaser doesn't tell us much, though he does where a Starfleet uniform at one point, which supports the Gary Mitchell theory even more.
3) "TRON: Legacy" Sequel Gets New Writer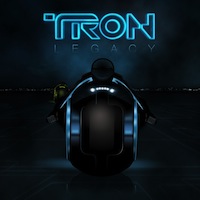 Considering the extensive ARG viral campaign Disney (via 42 Entertainment) did for TRON: Legacy, this story should be of special interest to our readers. Even though the TRON sequel didn't perform as well as Disney might have expected at the domestic box office, it did make more than double its $170 million budget worldwide, and the brand is still going strong. Thus, a third movie was expected, and now Disney has fast-tracked it by hiring a new writer, the relatively unknown Jesse Wigutow. Joseph Kosinski is still attached to return as director, and it is unclear if Disney will be using any earlier drafts as a starting point, or even if the animated TRON: Uprising Disney XD show will play a role. Either way, I hope the title of the new film is TR3N just to piss off the detractors.

Other Headlines
Ellison Siblings Finally Close Deal for Terminator Rights to New Films [First Showing]
Matt Damon Says 'The Bourne Legacy' Makes It Hard For Him To Re-Enter The Franchise [The Playlist]
'Ender's Game': Harrison Ford stares down Asa Butterfield in first photo [EW]
Here's 11 Reasons Why 'Cloud Atlas' is Not the Worst Movie of 2012 [First Showing]
DreamWorks Animation Braces to Lose $50M on 'Rise of the Guardians' [The Wrap]
Does ANYBODY Like 48FPS In THE HOBBIT? [Badass Digest]
Kevin Smith's HIT SOMEBODY: First Two Films, Then One, Now a Miniseries, Always a Joke [Badass Digest]
IGN Debuts the New Poster for Oblivion [IGN]

Did we miss any stories that got you buzzing this week? Let us know in the comments below!