The Collection is a sequel to the indie horror film The Collector that is opening next week nationwide. The Collector is a serial killer who sets gruesome boobytraps for his victims and collects body parts. The film's Facebook page has an App called Collect Your Friends, where you can create a gruesome scene that will make the Collector proud. Get the details after the break.

Once you choose your five Facebook friends, you then select a background scene to do your dirty work. After choosing one of the disturbing sculptures, your scene is set. Each of your friends are now part of your masterpiece. Check out my artwork below, using members of the MovieViral staff.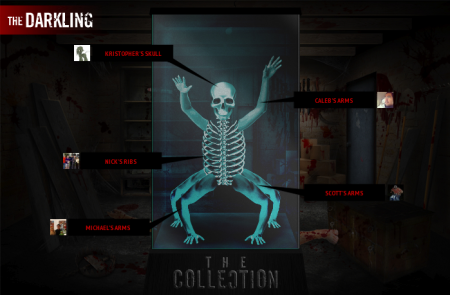 * * *
When Elena's (Emma Fitzpatrick) friends take her to a secret party at an undisclosed location, she never imagined she would become the latest victim of The Collector, a psychopathic killer. The Collector kidnaps and transports her to an abandoned hotel he's transformed into his own private maze of torture and death. Upon learning of his daughter's disappearance, Elena's wealthy father (Christopher McDonald) hires a group of mercenaries to retrieve her from the vicious grips of The Collector. These mercenaries coerce Arkin (Josh Stewart), the only man to have escaped the wrath of this heinous monster, to lead them through the gruesome labyrinth. Now, Arkin finds himself fighting for his own life in order to save Elena. "The Collection," directed by Marcus Dunstan and written by Dunstan and Patrick Melton, is a suspense horror film with nonstop thrills at every turn, starring Josh Stewart (The Dark Knight Rises), Emma Fitzpatrick (The Social Network), and Christopher McDonald (Requiem for a Dream).