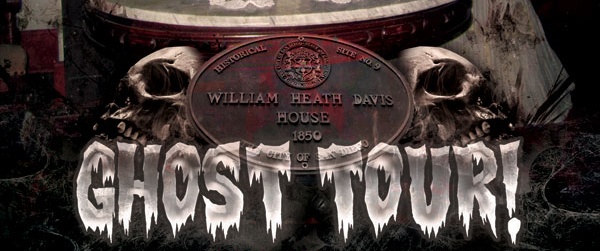 Last month, I had an opportunity to watch the James Wan's fantastic new horror, The Conjuring, you can read my review of the film here. But for those who are attending the San Diego Comic-Con, will possibly miss the film, which shares its opening weekend with the biggest geek gathering. So Dread Central will give you a chance to experience what it was like for the Warrens and the Perron's to live in a haunted house, by inviting you into one in San Diego's Gas Lamp District. Hit the jump to find out more.

Located just two blocks away from the Convention Center at 410 Island Ave., The William Heath Davis House Experience will probably be the scariest event of the con, other than people stabbing each other in the eye or fans asking actresses to sleep with them.
Tours start on Thursday and will be held twice a day, once at 9:00 PM and then again at 12:00 Midnight. Admission is $60.00 per person WITH ALL PROCEEDS going to the upkeep of this truly historic building. Attendees are more then welcomed to take as many pictures as they want. And this is no ordinary tour, this tour does away with the tape recording tour, you will use flashlights, and you will be scared.
But Saturday will be the main event. Tickets are limited and the cost of entry will be $100. There will be food, and you will be allowed into places that you couldn't go to in the former tour. Dread Central said: "The house becomes VERY active after 1:00 AM, and staff will be on hand to escort you out should the experience prove to be too much for you."
No one will be allowed on the premises if they are under the influence of any sort of substance.
If you want to go, purchase your tickets and RSVP at Gaslamp Museum website or the San Diego Ghost Hunters website. Don't be deterred if they are sold out, there is an off chance that people just forget to show up or decided they couldn't go, so tickets will be available at the door.