Hungry for something to tide you over until September 27th, when the sequel to the delectable 2009 animated family film, Cloudy with a Chance of Meatballs is released? Well, you might want to try out this trio of games featuring the new film's appetizing new critters, the Foodimals! Find out which of these three games best suits your particular palate after the break.
As the appetizer to this meal we have the Foodimal Match Game. By using the your memory to the best of your ability, you must pick two cards at a time over and over again until you are able to match two identical cards. While not very taxing on your brain, it is simple fun that anyone can enjoy.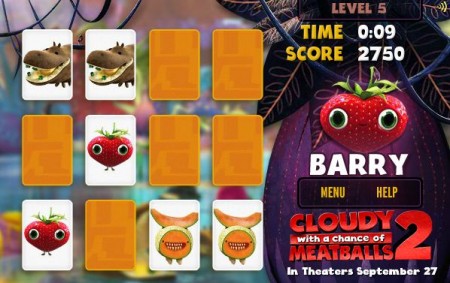 As the main entree we are serving the What Foodimal Is This? Quiz game. This is the perfect way to get acquainted with these savory fellows. You are given a line-up of different Foodimals and asked a pun-heavy question that only the most clever of minds can unravel.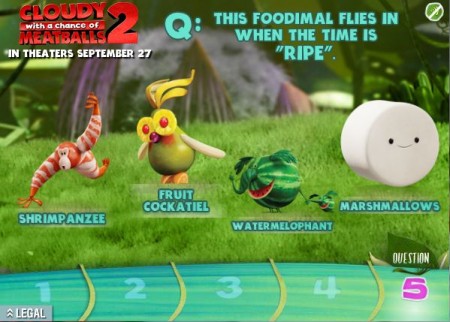 Lastly we have everyones favorite part of the meal, the dessert. The I Spy A Foodmial! game will help you relive those long family trips across country (or across town depending on your family), where you must locate a number of Foodimals in different environments. Blending into their natural habitat, these little guys aren't as easy to spot as you might think.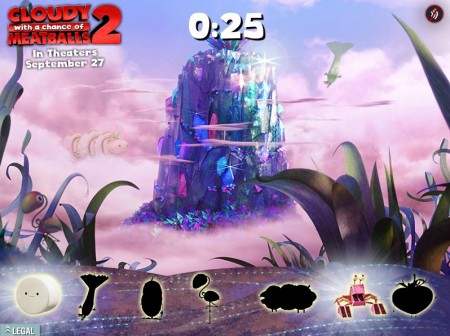 That completes tonights dining extravaganza! If you are still looking for a midnight snack later in the evening, perhaps you might want to head on over to the Cloudy With A Chance Of Meatballs 2 official website and check out the latest trailer for the succulent sequel.