Justice League: The Flashpoint Paradox, the latest DC Universe Animated Original Movie, comes out on Blu-ray
on Tuesday. The film is based on the 2011 comic-book crossover "Flashpoint" as it quite different from Warner Bros. Home Entertainment's recent DC movies. I got a chance to see the film at Comic-Con last week, and you can read my spoiler-filled review after the break.

As you might have guessed from its title (or if you read the comic), this movie centers around the Flash, aka Barry Allen. The film starts off with a young Allen coming home to find his mother murdered, feeling guilty for getting there sooner. We then skip to present day Central City, where The Flash has to foil the plans of Professor Zoom and other Flash villains working for him. The Justice League comes in to help when it looks like Zoom has gotten the better of Flash. He decides to run off his frustration, but then wakes up at his desk at work.
Unfortunately, Barry quickly finds out the world has changed. There is no Justice League, thanks in part to there being no Superman. Aquaman and the Atlanteans are in a war with Wonder Woman and the Amazons. The human race is caught in the middle of this massive war, and some of mankind's unexpected champions are Lex Luthor and Deathstroke. In this universe, Bruce Wayne died that night in the alley, and his father Thomas becomes Batman (Bruce's mother apparently becomes the Joker). Barry has no powers here, and his wife Iris doesn't even know who he is. Barry figures out that it was Professor Zoom who changed something in the past to create this alternate universe, so he and Batman start working on figuring out a way to fix the timeline.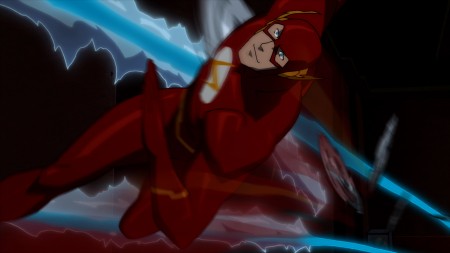 I've watched the last few animated films in the DC Universe, and I can tell you that this one sets itself apart. One obvious reason is the alternate timeline, but there's a lot more than that. Character designer Phil Bourassa worked on the recently-cancelled TV show Young Justice, so you might notice the similarities in the visual style, which sets itself apart from previous films (Aqualad, in one of the many cameos, looks exactly the same). Most importantly, however, is the somber and more serious tone. This is a dark film that is not for small children. There is plenty of death throughout, including close-up headshots. Because this universe isn't going to last, there is some creative license to go this darker path, and I loved it. There is still a bit of humor sprinkled in, but for fans who want to see their meta humans go all out, this is what you have been waiting for.
The voice cast also differentiates the movie. While Kevin Conroy still voices Bruce's Batman, Kevin McKidd voices Thomas Wayne. McKidd's fellow Grey's Anatomy star Justin Chambers is the Flash, veteran actor C. Thomas Howell is Professor Zoom, and the great Cary Elwes is Aquaman. Fortunately, there some familiar voices with Dana Delany as Lois Lane and Nathan Fillion as Green Lantern. Sam Daly voices Superman, which is an interesting choice since his father Tim Daly is famous for voicing the Man of Steel in the animated series and several movies. All the actors are great in their roles, and Daly has a hint of his father's voice to help make that transition smooth.
If DC is trying to prove that animated films aren't just for kids, then this movie does exactly that. It's a brutal – yet fun – ride that plays around with our preconceived notions of these famous characters.
Rating: 4/5