Lindy Booth may look like some pretty girl on the outside, but deep down she has got the skills to Kick-Ass. The actress reunites with Cry Wolf director Jeff Wadlow for the sequel to the cult superhero film, where she plays a ballet teacher by day, but the nasty Night Bitch by night. We had an oppurtunity to sit down one-on-one with the actress during this year's San Diego Comic-Con, where we talked about Comic-Con itself, playing a character called Night Bitch, working with Wadlow again, and whether or not she would be in for a third film. Hit the jump for all of that and more.
MovieViral: Is this your first Comic-Con?
Lindy Booth: It's not. But it's my first in a while, and it's grown, enormously. It's amazing, it's so much fun though.
Has it gotten to a point where it has overwhelmed you?
Booth: It hasn't yet. I think the fans are so awesome, everyone is so excited, and happy to be here, it just makes it fun.
What has been your most memorable experience while at Comic-Con?
Booth: Being at Hall H. Thousands of people, it's just blackness, and all you can see is just smiling faces looking back at you. It's such an amazing response. It was so much fun. It's so loud up there on the stage. You can't hear what anyone is saying. Everything echoes back, it's a trip. I have no musical ability, but I feel like that's what it would feel like to be a rock star. That's the closest I will get to ever playing a stadium show.
So if you had a walk up song to walk into Hall H to, what song would it be?
Booth: Oh I can't even begin. Yeah I got nothing. Yeah it's too exciting
How did you prepare for your role in Kick-Ass 2?
Booth: I read the comic books, the second one.
What's it like to play a character who calls herself Night Bitch.
Booth: It is amazing. Everyone would call me bitch as much as they could, and so I would snap back with some sassy remarks of my own, not make it easy for everyone else, I'm not entirely peachy. But it was great, she's a great character, and tons of fun.
So then what's it like to tear down a guy's masculinity?
Booth: Obviously it is great. One of the fun things is that they trained us all individually so we each have our own fighting style. Night Bitch in the day, she is a ballet teacher. So a lot of her fighting skills is more elegant, a lot more long lines and kicks, I have a giant staff that I would take out the bad guys with. It's much more about those balletic lines and poses. So it was fun training like that.
So your alter ego, is she the polar opposite of her superhero persona?
Booth: Yeah, she is. And that's what I one of my favorite ideas about the Kick-Ass movie is that it's all about: who are you and who do you want to be? And we all have those two different sides of ourselves, and all girls have a little bit of Night Bitch in them. I think as an actor it was fun to explore those two different sides and to imagine if you could put on a different mask everyday, what would that mask be?
So what it like to work with Jeff Waldow again?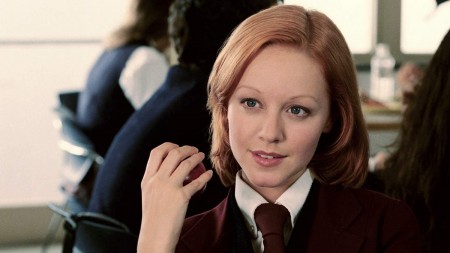 Booth: Working with Jeff was a lot of fun. We've always said we waned to do it again. We had so much fun on Cry Wolf. It was great. He obviously is so in love with this world. He's a comic book guy. I thought the script was amazing, he had a clear idea of what he wanted to do. Clearly loved and respected the movie, so it was easy for me to work with him.
Based on the reactions we saw in Hall H for Kick-Ass 2, people want to see a third happen, would you like to come back for another one?
Booth: If there is going to be a three, I'd be down for doing it. We just started exploring this world, like the teams, good vs. evil, Night Bitch is a part of that, so I would like to come back. Maybe she will be an even better fighter this time.
So was there any chance for any of the cast to pull pranks on each other or was it just clear cut straight to work kind of deal?
It was very forward focus, but we had a great time obviously. It's a big group of people and we all got a long so well. Working in London was amazing. Toronto was amazing, it's my hometown. For me every time i get to go back to Toronto, it's always always a good time.
What's it like to work in your hometown of Toronto?
Booth: It was amazing. We got to shoot a couple of scenes on Young Street, which is like the main street, and it was Jim Carrey's first day at work, and he's from Toronto as well. So I think for the two of us to shut down Young Street was like "this is cool," so it's always fun to be back.
With an action movie like this, there's got to be some dangerous stunts being pulled, what was your most dangerous stunt while on set?
Booth: My most dangerous stunt was walkng around in super high heels?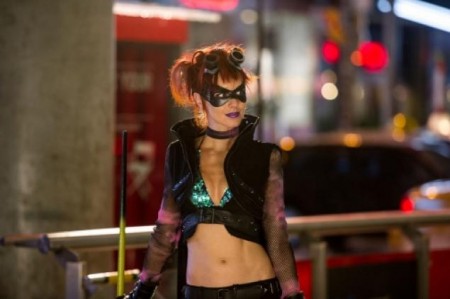 Did you have to run in them?
Booth: Oh yeah. But that was part of the thing, I decided when I was in a superhero movie, I wanted to fully commit to this costume, I want all those things all those girls had in superhero [comics], I wanted those super ridiculously high heels that no one could walk in, I wanted the girl in the superhero film. I got to wear a cape too. I mean how awesome is it to go to work wearing a cape? It's pretty cool.
So for our female readers, what's the trick to running in high heels?
Booth: Concentration. Watch where your going, and concentrate. Especially, and this is my big tip, going from any sort of surface to carpet, you gotta watch out because you can definitely trip up. You gotta look down, and make sure you have a clear path, and you just got to go for it. I'm sure that was interesting for you.
No, it is actually, because when I see it on TV or in Movies, it looks really hard.

Booth: It is, it's an under appreciated skill. Especially in the superhero world.
So with a movie like this, there's bound to be a lot of props and other set pieces laying around, did you take anything home as a souvenir?
I took back no souvenir.
What?
Maybe that's because if I come back for a third one they might need it again.

Maybe.
Maybe.
Universal Pictures will release Kick-Ass 2 into theaters on August 16.