The Spectacular Now, is one of those rare coming-of-age films, that makes you feel good as you walk out the theater. In the film Miles Teller plays Sutter Keely, a smooth talking high school senior with no ambitious. After going through a terrible break up, Sutter decides to go out for a wild night of drinking. He is awakened from his drunken stupor by Aimee Finicky (Shailene Woodley). From there it is love at first sight, but there are some bumps along the road they have to get through first to make it the perfect relationship.
We had the chance to sit down and talk to the actors of the upcoming James Ponsoldt film, where they talked about the project itself, if they've read the book, Divergent, their co-stars, and what they learned while on set. Hit the jump for more.
MovieViral: You were in 21 & Over
Miles Teller: Right
And now you're in this film.
Teller: Yup.
Do we have a theme developing?
Teller: I mean, somebody asked me if I was worried about being typecasted as the party guy. I think that is a part of this movie, I don't think it centers around it, but I do like to partake in drinking.
Shailene Woodley: The pineapple juice!!
What is it that attracted you to this project? Have you read the book?
Woodley: He read the book. I didn't read the book because Aimee was depicted very differently in the book. And the way I chose to play her in the movie was sort of very different choice. SO I didn't read the book because I didn't feel like it applied to movie that we were making.
Teller: Yeah I read the book, I just thought it was important for me. The book is completely from Sutter's point of view. In the book, Sutter is a little different. I think Sutter says things like "Fabulouso," he always refers to himself as "the Sutterman," just certin things that I wanted to carry over like a wink at people who read the book. BUt I couldn't say "fabulouso" with a straight face. And I would try. I would be all "ah so fabulouso," and just give them a look to see if it would be okay every time, they'd be like, "what did you just say?"
In the movie Sutter goes far to find out more about Aimee, have you guys done that before?
Teller: I play intstruments, and there was a girl's favorite song was "Tiny Dancer," and I learned that, and I played it for it.
Woodley: It was actually me.

The setting of the film feels very homey and very quaint. Was there anything that you did in your performance to make it more believable?
Teller: I think Shailene and I are very present actors, and when you get a scene, it's a shared scene. I don't know what Shailene is going to do, I kind of know what I am going to do, but at the same time I am not going to force her to do it. At the end of the day you are talking to a person, you are not talking to "that person." So if she was doing something different, I would just respond to it. And I think both of us really enjoyed, not knowing where the scene was going to go necessarily, just being very present and in the moment. So we match up well in that regard.
Woodley: We're very lucky that we just have a good rhythm with each other.
Teller: And the director allowed us to do that.
You guys have such good chemistry in The Spectacular Now, but things are different in Divergent…
Teller: Well maybe, the third book is not out yet. I think Peter and Tris get together, and have a child.
Woodley: I think the child's name is Allegiance.
How do you guys think that the Ying-and-Yang chemistry will translate in Divergent?
Woodley: I think it will always seem like we don't like each other, there will always be sexual tension.
Teller: I just echo that sentiment. Even thought our characters might not be getting along as actors we can still work together and get the best scene done. I was raised by two older sisters, I love them, but, at the same time they would literally beat me up all the time. She was kind of a bully to me, so all those emotions are there.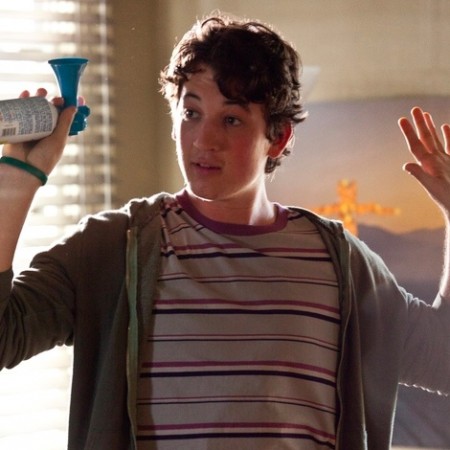 So coming off of 21 & Over and this film, what do you look for in future projects?
Teller: Alcohol. My character drinks, I don't do it. I don't know last year was interesting. I wasn't looking forward to playing a high schooler when I was doing this. I did four films last year and I played two high schoolers, one post-college, and another one early twenties, but I did it because it was the best script available, and for me I think I have a high interest in comedy, at the same time I just did two comedies – I'm going to be doing something in September that is more dramatic – to me it's just what kind of hits me at that time. I did funny stuff recently, and I really are to make somebody laugh for this next one.
Miles, you also got to work with Brie Larson in the film, how did you approach working opposite her?
Teller: Brie's a really really good actress, obviously. And she brought something completely different to the role of Cassy than when I thought I read it. If you read the book, he always described her as being beautifully fat. But she was also that girl.  A strong girl with a good head on her shoulders. Cassy dumps me, and even with the way Brie stands, she stands with a lot of power, so every person in this movie is an incredible person to work with.
And Kyle Chandler too?
Teller: Yeah. Kyle's awesome, I had never seen Friday night lights, so I didn't know what to expect. And then James [Ponsoldt] said "on youtube type in coach, and see everything that comes up." And I watching it, and oh my gosh, this guy is the all American, just guy you would want to go to war for, and he really just embodies all those qualities. But when I met him on set, he was pretty much this dude. And not to say he wasn't really nice or respectful guy, that character really scared him that he wasn't really going to be able to do it, because it was so different than anything he has every played. But he was messing up his blocking, he was forgetting lines, he was very shakey. It was just weird watching him all the time.

What did you learn while doing these performances?
Woodley: I don't know if it was so much as learn, but I never been on a film where I have been able to play as much with another actor. I mean on [The] Descendants, Alexander [Payne] gave us free reign, we just played the whole time. But I only had a few scenes with a guy my age in that movie. And so I never done a movie where our relationship allowed for that playful existence, and that was really fun.
Teller: I talked about this, but I felt that this was the movie where I really have grown so much as an actor, because I did this movie called Get a Job before hand and Get a Job was the first call sheet I was a lead in. And I remember being a bit uncomfortable with that, all these actors around me like Anna Kendrick, Bryan Cranston, all these actors that have been much more established, but I was this main character, and I felt sheepish, and I didn't own up to the fact that it was my movie, I didn't really know what to do with it. I felt like I was on borrowed territory, whatever it was, and then by the end of Spectacular Now, because I am in every single scene, you shoot in 25 days, you're shoot like three scenes a day, you're shooting five pages, and there's not any time to just shy away, it's just go. I called it boot camp. I learned that if you are a lead in a film, carry that with a lot of pride and you did need to be a bit like a leader.
The Spectacular Now opens in limited theaters on August 2nd, and expands nationwide on August 23rd.