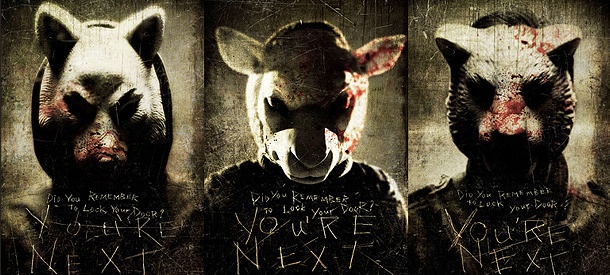 Tourists, residence, and other people just browsing the city of Los Angeles and New York may notice that animal masks are on some famous statues or inanimate faces. No it's not some sort of political statement that is trying to be made, or some killer trying to send a message – okay maybe it's that. In reality, it's just some fun viral marketing being done by the people over at Lionsgate who are promoting Adam Wingard's upcoming thriller You're Next.
The film centers on a family reunion being held in an upscale home. Little do they know, they are some part of sick game being held by killers wearing masks that look like various animals. Hit the jump to see a few samples of these statues being covered by these masks.
Credit goes to Collider, for finding and compiling these images. Check out their site for more images. All images were taken from Los Angeles landmarks, so if any of you live in New York and have come across images similar to these, please feel free to send them over to our team!
Written by Simon Barrett, the film stars Sharni Vinson, Nicholas Tucci, Wendy Glenn, AJ Bowen, Joe Swanberg, Amy Seimetz, Ti West, Rob Moran and Barbara Crampton. You're Next opens in theaters on August 23rd.
[Collider]