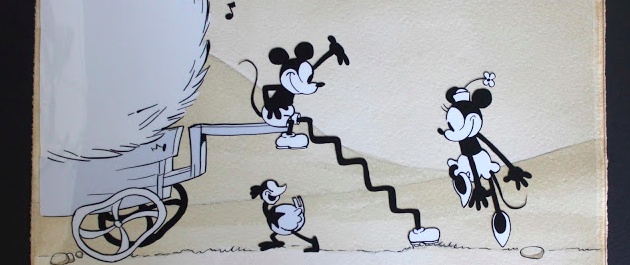 Not much was known about the long lost Mickey Mouse short Get A Horse. From what we've learned, it was an animated piece drawn up and voiced by Walt Disney himself. BUt it was a feature that was never revealed to the public, until now. John Lasseter showed the animated short to the public for the very first time, and exclusively to D23 members. We were led to believe that we would be seeing a piece of history that has been locked away. Instead we were shown something that was quite different, but also something that could change the way we see animated films. Hit the jump for more.
The piece has been marketed as "MM4," the fourth animated piece that was never revealed to the public until now. A piece of the animated short was shown to the public with the dating back to 1928. We learned that animators frequently return to the the animation library for research and restoration of certain pieces.
Well the marketing is not entirely true. Lauren MacMullan, who first came out as a Disney archivist, was later revealed to be the director of an all new animated short that was a hybrid of the early Disney animation format with fully rendered and colored CGI. Without going into spoiler territory, the short is an excellent representation of the two being able to work together hand-in-hand.
Although, there is one unique aspect of this short that must be noted; it pulls Walt Disney's voice from previous Mickey Animated shorts and uses it in this film. Lassester noted that MacMullan had to go through hours of footage just to find the word "red," because Mickey's pants were red – even though the first few mintues of the short is spent in black and white.
Lasseter also talked about some of the difficulties of the animation as Mickey's head would appear as an "ear mowak" in the 2D world but a realistic ear in the CGI world.
Overall it was a very fun short that involves classic Disney characters of the late 1920s.