DreamWorks Animation's latest hit The Croods comes out on Blu-ray and DVD October 1st, but you can get now in Digital HD. After the break, read my review of the film and its iTunes extras.

The Croods are a family of cavemen living in prehistoric times. The patriarch Grug (voiced by Nicolas Cage) is a hulking protective father and husband who makes sure the family never takes any chances and gets inside their protective cave whenever it's dark outside. The rest of the family mostly falls in line, except for his dangerously curious daughter Eep (Emma Stone). One night she ventures out of the cave and finds Guy (Ryan Reynolds), a young man with the build and intellect of a more modern man. After Guy's predictions about the end of the world seem to come true, he is forced to help the Croods find safety in a distant mountain.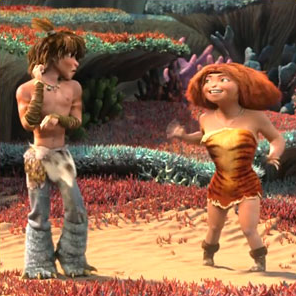 I didn't think much of this film going into it despite decent reviews and a $585 million worldwide box office gross. With that in mind, I was pleasantly surprised. The story was a bit predictable, which is common of animated films (especially from DWA), but the themes of family living a full life work well with this plot. The film has some genuine laughs, especially by Clark Duke as Grug's son Thud and the sloth-like creature Belt, but some of the jokes fell flat and it was wasn't as consistently funny as I had hoped.
There is also an interesting undercurrent story about evolution. The Croods are clearly meant to be a more primitive pre-human species, while Guy is basically Cro-Magnon (modern man). While the Croods are big and strong, Guy's intelligence and ability to improvise are what save them from the mass destruction. I liked this part of the story, though the budding interspecies romance between Eep and Guy felt weird.
The iTunes Extras include an picture story called "Belt's Cave Journal" and deleted scenes. It's not much, but at least the deleted scenes are accompanied by an explanation of their deletion by the co-writers and co-directors Chris Sanders and Kirk DeMicco.
Rating: 3/5