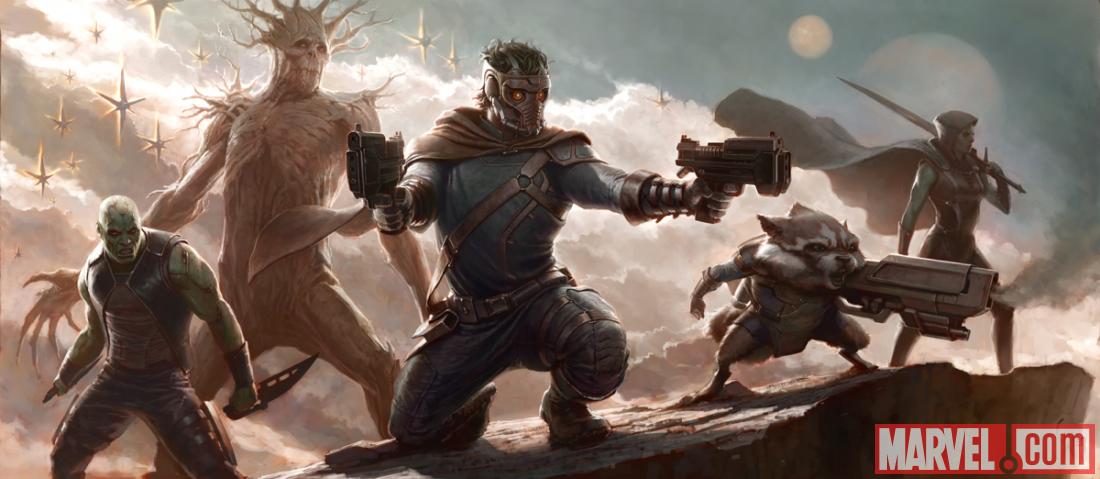 The image above was the first concept art for Marvel's upcoming space adventure Guardians of the Galaxy. While the characters and storyline aren't as familiar to the average fan, they will play a role in the Marvel Cinematic Universe going forward. So, we clamor for each little bit we get. Fortunately, Walt Disney Studios released their 2014 Preview Kit, which includes the first image from the film. Check it out after the break and compare it to the other concept art released at Comic-Con this year.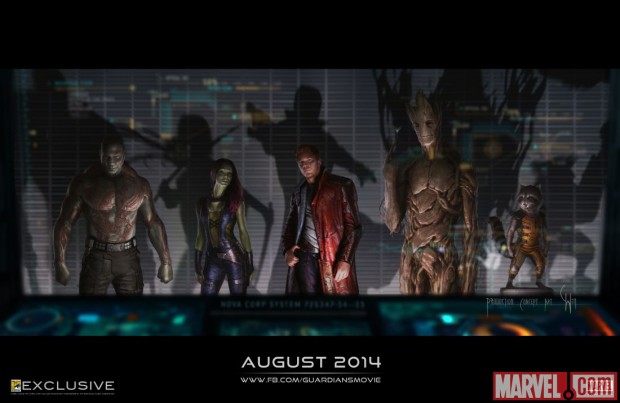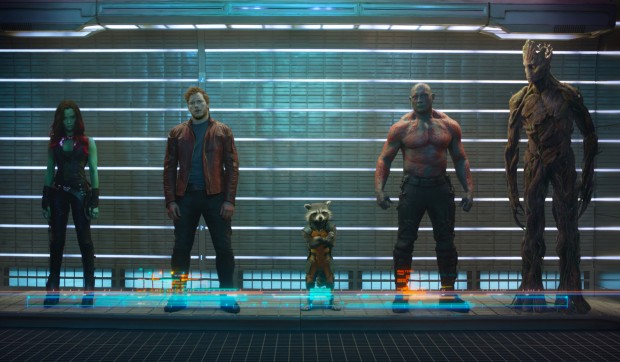 As you can see, the look for Groot (the big tree guy) has been updated, as have the outfits for Gamora (Zoe Saldana) and Star Lord (Chris Pritt). This new image is already sweeping the web, and hopefully we'll be getting a trailer soon. We also got an official synopsis for the film, which you can read below.
From Marvel, the studio that brought you the global blockbuster franchises of Iron Man, Thor, Captain America and The Avengers, comes a new team–the Guardians of the Galaxy. An action-packed, epic space adventure, Marvel's Guardians of the Galaxy expands the Marvel Cinematic Universe into the cosmos, where brash adventurer Peter Quill finds himself the object of an unrelenting bounty hunt after stealing a mysterious orb coveted by Ronan, a powerful villain with ambitions that threaten the entire universe. To evade the ever-persistent Ronan, Quill is forced into an uneasy truce with a quartet of disparate misfits–Rocket, a gun-toting raccoon, Groot, a tree-like humanoid, the deadly and enigmatic Gamora and the revenge-driven Drax the Destroyer. But when Peter discovers the true power of the orb and the menace it poses to the cosmos, he must do his best to rally his ragtag rivals for a last, desperate stand – with the galaxy's fate in the balance. Marvel's Guardians of the Galaxy is presented by Marvel Studios. The film releases August 1, 2014, and is distributed by Walt Disney Studios Motion Pictures.