Remember when we told you that The Amazing Spider-Man 2's newly updated viral site EnemiesUnite.com was counting down to something significant? Well it was all to celebrating the New Year. And to ring in 2014, Sony Pictures debuted new footage from the film, which focuses on Electro (Jamie Foxx) draining energy from Times Square. And with the number of lights being used in Time Square alone, that is a lot of power. His plans are foiled when Spider-Man (Andrew Garfield) swings into action. But will Spider-Man succeed in putting a stop to Electro's evil deeds? And what's this new countdown? You will just have to hit the jump to find out.
[Update: MovieViral reader Mawaii informs us that the clock is counting down to the SuperBowl on February 2. So we will be seeing brand new trailer from the film. The original article follows after the jump]

Clicking on the red text just below the "Special Projects" field will reveal the new clip – which is a condensed version of what was shown at Comic-Con. Now it won't reveal what exactly happens, but looking at how powerful Electro becomes just from one charge, Spider-Man will have his hands full trying to take down this electric villain. And that is only one guy. Remember, the first trailer teased three villain. In addition to Electro, the trailer featured The Rhino (Paul Giamatti) and the Green Goblin (Dane DeHaan).
The viral site has undergone a few changes since switching from ElectroArrives to EnemiesUnite. A brand new countdown has begun. In 32 days, the site will reveal something brand new. As to what it could be, it is too early to tell. It could be anything from a trailer being released – it may be too soon for that considering the first one hit the web just a few weeks ago – to new images confirming more villains. One thing is for sure, it will be very exciting, and we will keep you posted. Also clicking on the images under the video archive section near the bottom of the page of the viral site will reveal three looped clips. The first is of Spider-Man swinging, the second is the experiment that turned Max Dillon into Electro, and the third is of Harry Osborn and Peter Parker skipping rocks.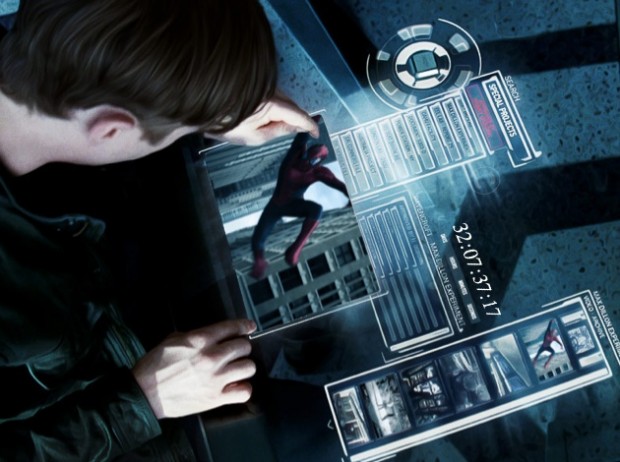 So what do you think will happen when the viral site's clock runs out?