In conjunction with series 3 airing in the U.S. on PBS Mystery, BBC Worldwide has released a viral video to promote a new app Sherlock: The Network inspired by the world of the show that users can buy to join in on the game. With 10 cases that users can aid Sherlock and Watson in, the BBC and the folks over at The Project Factory have come up with a fantastic interactive platform for fans to feel like they're part of the team. There are even videos of John berating you and Mycroft recruiting you.  It's really fun to see the clips of the actual cast including Freeman and Cumberbatch talking to you. Hit the jump to read about the details of the game.
It's awesome to have a brainy app that isn't just an easy way to profit off fans, its actually really challenging. Not only is there an extent of knowledge that must be had to solve the cases but the game also includes a tube mini game to test your dexterity. The cases are intricate and immerse you in the Sherlock universe.  You're offered an array of clues to piece together from personalized texts, voice mails from John and Sherlock to guide you while you attempt to figure out a case under the time constraints.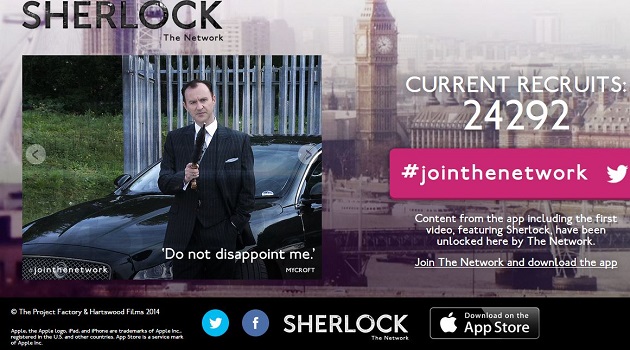 Don't fret though, there is an option to have Sherlock solve the case if you're stumped but it does come at a price. Some of the things users should brush up on is the use of the pound and the London Tube systems in the show. But really this shouldn't be a problem for the Sherlock fandom who have no doubt spent the past two years trying to solve the mystery of the Reichenbach Fall.
They should have kept fans entertained with this app when the Show was on a two year hiatus, you know what I mean?
(Source: 10 Best Sherlock GIF's From The New Episode)
The app costs $4.99 on the iTunes App store for mobile with an iPad version for an additional $4.99 with no in-app purchases as of yet and all content available from the start. Hopefully there will be more cases added in the future to expand on the game to keep the fandom busy till series 4.
#JoinTheNetwork