With seemingly dozens of trailers and clips already released, I was beginning to think Sony Pictures and The Amazing Spider-Man 2 were going to forgo traditional product tie-ins and promotional campaigns, and instead just inundate fans with footage from the movie until it's released in full in May. While more preview footage is almost assuredly on the way, it is refreshing to report that the new Spider-Man flick is launching a good-old-fashioned promotional partnership—with the United States Postal Service. Sound like an odd pairing? Hit the jump to learn more.
The USPS partnership with The Amazing Spider-Man 2 is meant to help promote its Priority Mail Flat Rate shipping service by highlighting the two's shared characteristics of "speed, agility, and reliability." From now through the release of the film, USPS customers can ship packages using special Spidey-themed Priority Mail Flat Rate shipping boxes and other post office goodies found at the USPS website.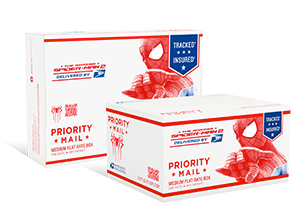 A Marvel superhero and our nation's postal service may seem like a puzzling pair for a promotional campaign, but when you are reminded that Captain America partnered with Dunkin Donuts and Wrigley's chewing gum back in 2011, you realize unions like this are par for the course in the run-up to a blockbuster film's release. So enjoy the stylish (and free!) special edition shipping boxes while they are available, and watch this fun promo commercial below featuring a very special cameo:

You can follow the "Amazing Delivery" campaign online using the hashtag #amazingUSPS. The Amazing Spider-Man 2 swings into theaters May 2.