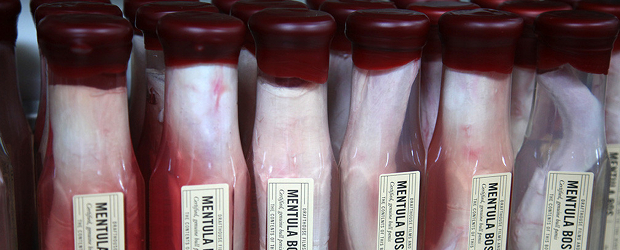 Yes, you read that title right. Drafthouse Films has raised the bar to a new level for Bluray/DVD collectibles with its official release of the "penis museum" documentary, The Final Member. Buy the documentary's collectors "package" and get a copy of the film along with your own bull "package" in a jar. After the break, check out the details on the documentary and its phallic collectible.
Per the documentary's official site, here's the synopsis for The Final Member:
Paris has the Louvre, London has the Tate Modern, and New York the Metropolitan Museum. But Husavik, Iceland—a diminutive village on the fringe of the Arctic Circle—boasts the world's only museum devoted exclusively to painstakingly preserved male genitalia. Founded and curated by Sigurður "Siggi" Hjartarson, the Icelandic Phallological Museum houses four decades worth of mammalian members, from a petite field mouse to the colossal sperm whale, and every "thing" in between. Lamentably, Siggi's collection lacks the holy grail of phallic phantasmagoria: a human specimen. Siggi's world changes dramatically when he receives generous offers from an elderly Icelandic Casanova and an eccentric American. However, as the competition for eternal penile preservation heats up between the two men, Siggi soon discovers that this process is more complicated than it initially appeared.
Here's the doc's official trailer:
So how do you go about getting a bull penis of your very own? Well, if you preorder the Final Member Collector "Package" before June 17th, you get a DVD or Bluray of the Drafthouse Films documentary The Final Member, a signed certificate of authenticity, a penis donation form for the Icelandic Penis Museum and an actual bull penis preserved in a glass jar and sealed with wax. Here's a picture of what you get: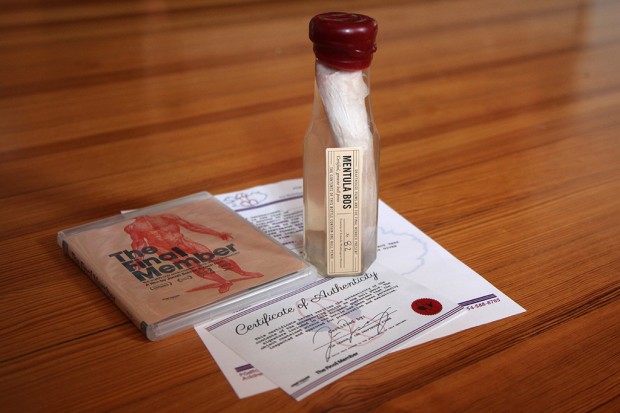 If you feel like life isn't complete without your own "bull penis in a jar," then you can preorder your very own copy here. For more info on the film, you can check out The Final Member official site.
Thanks to CinemaBlend and Badass Digest for the heads up.