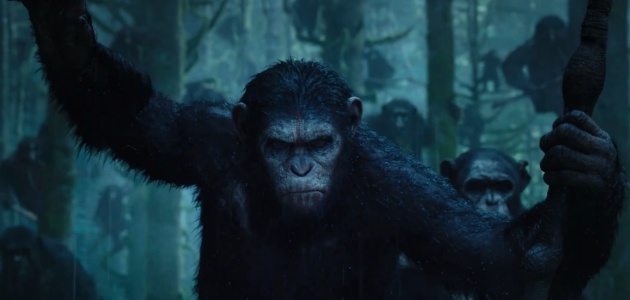 Yesterday's Dawn Of The Planet Of The Apes viral videos came with the announcement that a Fox would drop a brand new trailer the very next day, and the studio has delivered on that promise.
The film takes place 10 years after Rise Of The Planet Of The Apes, where evolved-apes have asserted their dominance over a small colony of humans. With their peaceful co-existance already on shaky ground, a brave human, Malcolm (Jason Clarke), will try to assure Casear (Andy Serkis) and his apes that they mean them no harm.
If anything, the trailer for Dawn Of The Planet Of The Apes is an excellent look at the incredible visual arts that we will see in the film. Hit the jump to see the full trailer.
This trailer is more plot centric than the last one, which was more like an announcement trailer than anything else. We get to see everyone's motivations in the film, and despite us knowing how this Apes prequel will end, Dawn Of The Planet Of The Apes will look at just how fragile the relationship between apes and man really is.
Opening in theaters on July 11, Dawn of the Planet of the Apes also stars Gary Oldman, Judy Greer, Kodi Smit-McPhee, Kirk Acevedo, and Enrique Murciano. The film is directed by Matt Reeves
A growing nation of genetically evolved apes led by Caesar is threatened by a band of human survivors of the devastating virus unleashed a decade earlier. They reach a fragile peace, but it proves short-lived, as both sides are brought to the brink of a war that will determine who will emerge as Earth's dominant species.