The Back To The Future Hill Valley on the Universal Studios Backlot is as about as close as you can get to setting foot into the fictional town. Oh yeah, you can't actually step foot into it considering you are in a tram. But a new fan experience is coming to London that will help fans be able to walk in Hill Valley.
Hit the jump to see how you can make this happen.
A London-based company called Secret Cinema (you can purchase your tickets here)will hold screenings of the cult classic film for fans to watch, and in addition to that, they will also build the fictional town for fans to experience. Tickets go on sale Wednesday June 4 for multiple screenings, which take place in the London area in late July and early August.
Here are a list of dates for the event.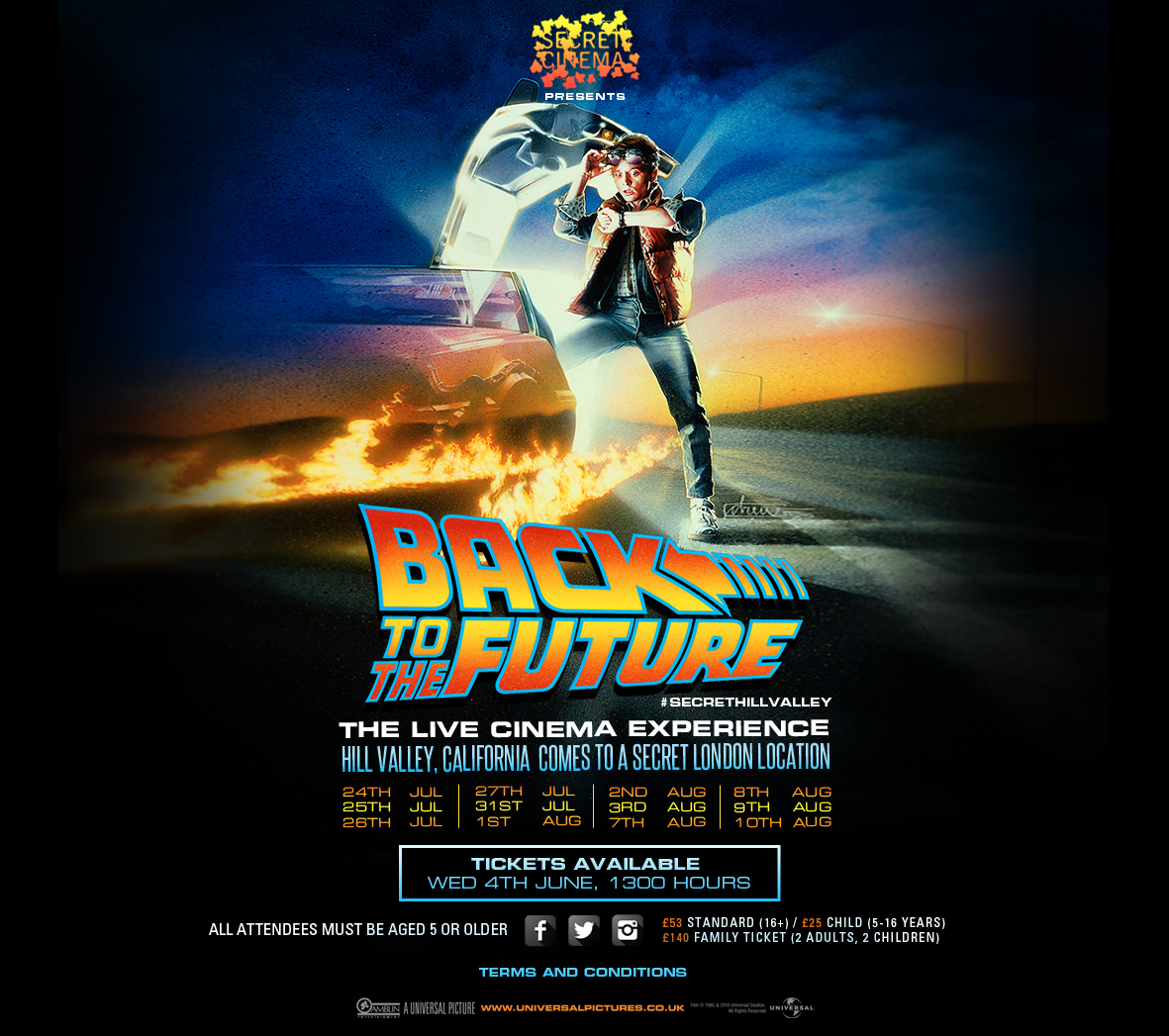 First Showing was the first to discover of this one-of-a-kind fan experience. While this may not be here in the states, we do have these fan events courtesy of the people over at the Alamo Drafthouse who hold the Rolling Road Shows. Recently, the Alamo Drafthouse announced that they will be holding a special screening of Snowpierecer while aboard a train with director Bong Joon-Ho in attendance for a special Q&A.
The London Evening Standard has some more info about the fan event:
Key scenes from Back to the Future will be recreated at a secret location in London this summer for epic screenings of the time travel movie.

A time machine modelled – like that in the film – on a DeLorean DMC-12 will be on hand to help transport audiences between the different time zones through secret alleys and entrances to the town.

And the Enchantment under the Sea Prom dance, where Marty's parents, George and Lorraine fell in love after their first kiss, will take place in an after-party in a venue near the secret location.

Fabien Riggall, founder of Secret Cinema which has presented more than 40 immersive cinema screening events, said: "We shall play heavily on the innocent dream-like world of 1955 and the nostalgic pre-mobile phone world of 1985. We want the audiences to forget their current world and take an adventure.

"A section of the audience shall play out the narrative of Marty McFly, being thrown into a time machine and transported into another existence and others will become part of the 1955 and 1985 world before."

A television station will play programmes of the period and a Battle of the Bands will determine which musicians will play live on stage each night.