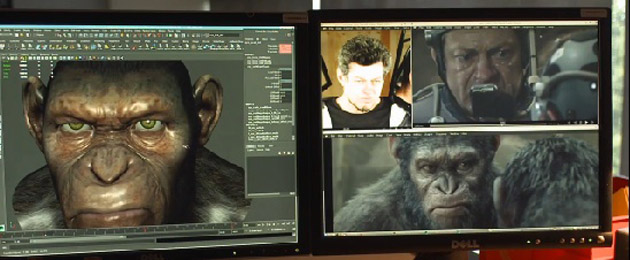 With Dawn of the Planet of the Apes' release just a few weeks away, Fox is ramping up the marketing, which has been surprisingly subtle. Even with three trailers, some viral activity, a clip from the movie, and a panel at Wondercon, the marketing campaign hasn't created as much noise as some of the other tentpoles. Not that there is anything wrong with that, in fact seeing Fox use this method increases my anticipation for the film.
Now Fox has released a featurette for Dawn of the Planet of the Apes, which gives us a look at how WETA created the various apes. Using side-by-side clips of humans in mo-cap suits alongside the final product, we are able to see how WETA uses their signature visual technology, and the hours they put it to make sure every detail is just right. Hit the jump to see the full video.
Part of the challenges of creating these apes, was doing things that were never done before in the first film. Creating wet fur, exterior shooting, old software vs new software, all of these things presented a challenge to WETA, and I can't wait to see how they overcame them all.
Thanks to IGN for posting the latest featurette.
Directed by Matt Reeves, Dawn of the Planet of the Apes stars Jason Clarke, Keri Russell, Gary Oldman, Kodi Smit-McPhee, with motion capture performances by Andy Serkis and more. It opens in theaters on July 11.
A growing nation of genetically evolved apes led by Caesar is threatened by a band of human survivors of the devastating virus unleashed a decade earlier. They reach a fragile peace, but it proves short-lived, as both sides are brought to the brink of a war that will determine who will emerge as Earth's dominant species.