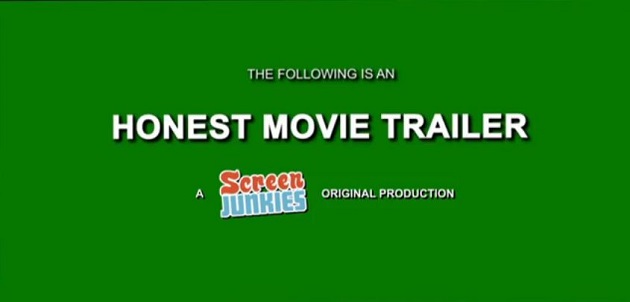 Andy Signore, creator of Honest Trailers and VP of programming of channels for Defy Media and Screen Junkies talked to Movie Viral over at the YouTube culture centric VidCon 2014.  We caught up with the online video creator to talk about the VVRU fave, reception to his videos and about the con itself. Check out what he had to sat after the jump.
How did the idea for "Honest Trailers" come about?"
Andy Signore: Honest Trailers started out with the 'Phantom Menace' getting re-released in 3Dand we just kept wondering why would anyone want to watch the movie again let alone in 3D. The idea came up, "What if we did an honest trailer for it?" We literally just called out all the stuff that was boring–council meetings, sitting. We pointed out all the flaws in the movie. It did really well. Then we followed up with "Titanic" and "Twilight" which did even bigger. And we realized we had stumbled upon a format that we could just keep doing and it was just so fun to do. Fans started demanding it and it became sort of a machine.
Out of all the ones you've done so far, which have been your favorite to do?
Andy Signore: Most recently I thought the "Lion King" came out really well. I loved the music. It turned out awesome. The circle of life vocal turned out incredible. It was just so fun to see. I like the "Home Alone" one a lot. I like "The Avengers". "The Avengers" is probably a good one to say is my favorite. I love that movie. How do you critique it? Be honest about it but still say it kicks ass–which we did. I liked stumbling upon the fact that they were constantly talking into their ears and they didn't even have anything in their ears.
How do you go about picking which films to feature?
Andy Signore: The comments really help us hone them in and then tying it to whatever release is coming out. With "Ninja Turtles" coming out we'll likely do some "Ninja Turtles" movie. One of the older ones probably. We always try to tie em up with with something related to whatever is coming out. It's definitely comment based. Sometimes we do one we really wanna do . Like "Superman 4". We did it old school VHS style just cause we really wanted to try something new. So rarely we'll stick one in just for ourselves. Most of it is comments.
The voice on the trailer's is now so iconic. How did that come about?
Andy  Signore: That's cause it was a trailer so it was sort of the obvious thing. Finding the voice was probably the most interesting story of it. It was hard to find a professional movie voice over who was willing to sort of critique the movies they get hired to do narration for. Jon bailey is our go-to guy and been doing it for the longest.
Has there been backlash for any of the vids, even just good humored reactions?
Andy Signore: I've heard off the record things of certain people didn't like them but more often than not I'll get an email from someone who's like "I'm in the edit bay of 'big movie' and they're laughing hysterically at your trailer". So it's always fun to get those. Or a cast member will tell someone I know he thought, "that was amazing". So it's always fun to get that trickle down that they are watching out trailers in the studios.
Now, we're here at VidCon 2014, how many years have you been attending?
We were here last year. Jon Bailey he's been doing the "Honest Announcements" on the Main Stage. So before presenters come out we do  our little poking fun honest announcing of who's coming out. It's very exciting that we get to do some "Fault in Our Stars jokes for John Green coming out. I'm proud of that one. I think the joke we wrote is, "He did for cancer what Twilight did for vampires"
Check out the latest Honest Trailer for "Forrest Gump":