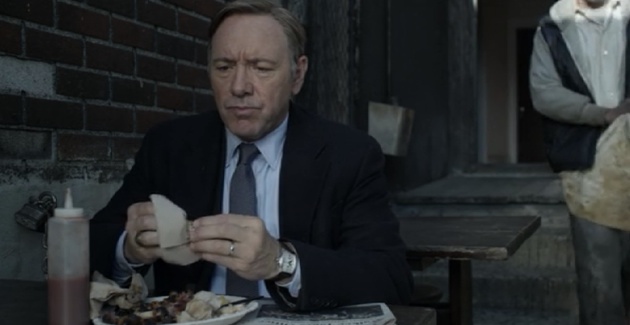 Often times I wonder if any of the restaurants seen in shows exist or not. While some are built sets, others are actual locations with the names changed for legal purposes of course. And while you may be able to find some of the restaurants used in films or tv shows through fan or Hollywood websites, few of them offer something like what Omaze and Netflix are offering.
If you've ever wanted to eat the the Frank's BBQ, the BBQ joint where Frank Underwood devises political strategies on House Of Cards, well, Omaze and Netflix is giving you a chance to do so. And just to sweeten the deal, they are offering you a chance to eat BBQ with Kevin Spacey and House of Cards showrunner Beau Willimon. Hit the jump to find out more about the contest, and the details as to why it is being held.
Proceeds towards this Omaze campaign will help fund The Old Vic Theater in London (where Spacey is creative director) and the Geffen Playhouse in Los Angeles.
Unlike most campaigns where one person can buy the grand prize, Omaze allows you to donate a certain amount. The more you donate, the greater chances you have of winning the prize. And this grand prize doesn't just include lunch with the series showrunner and lead star, but you will also have a chance to perform a scene with them. Pretty cool right?
Of course, you do get some incentives if you don't win, like a digital thank you card, or digital thank you video if you donate a great amount. Other incentives include a campaign t-shirt, apron -yes an apron-, a tumblr and cigarette case, or a twitter shoutout with all the prizes.
So, head on over to the official Omaze House of Cards page to donate if you want to win the prize or are at least looking forward to one of the incentives. And good luck.