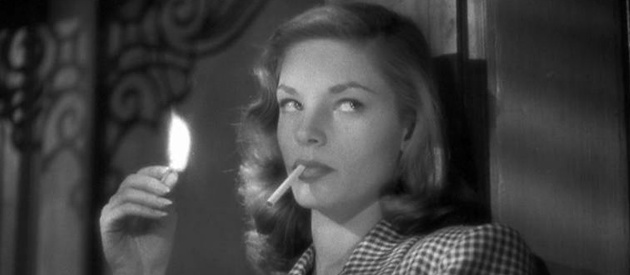 The legendary Lauren Bacall died today of a massive stroke. She was 89. Though she started her career in her teens, Bacall was wise beyond her years, not once missing a beat, especially when it came to starring opposite Humphrey Bogart, who eventually became her husband, despite the 25 year age difference. The two would go on to star in To Have and Have Not, The Big Sleep, Key Largo, and The Dark Passage. They would remain wed until his death in 1957. The two had two children. Bacall would eventually remarry.
I don't think I could remember anyone who cast a strong presence like Bacall. I remember watching The Big Sleep and To Have and Have not during my film classes during college, and having to write papers on the kind of star power she had at a youthful age, and what it was like for a woman to star opposite of someone like Bogart.
We have some quotes from the Bogart Estate, plus a clip from my favorite Bacall movie.
With deep sorrow, yet with great gratitude for her amazing life, we confirm the passing of Lauren Bacall. pic.twitter.com/B8ZJnZtKhN

— BogartEstate (@HumphreyBogart) August 12, 2014