A total of nine years has passed since the first Sin City was unleashed on us. That movie was an incredible mix of world building, stylish use of CGI, and characters that just lept from the screen. Now, many of the characters we enjoyed are back, with the same visual look of Basin City. You may be wondering is if Sin City: A Dame to Kill For is worth the nearly nine year wait? Read on for my thoughts.
This time around, Sin City revolves around the women. Two of the major stories are centered on a woman and her effect on men (the smoking hot Eva Green), and a woman out to avenge the death of her one true love (the no less smoking hot Jessica Alba. Through all this, we're treated to all the menace and machinations of the men who support, attack and depend on them. Eva Green is incredible here (I'll explain more later), and Alba is, well, good.
Here's the thing. We see lots more of Alba's Nancy stripping. That's great, and I'm sure many will be excited about that. What she also gets, is more to do as an actor. She's given the most important and wholly written character in the movie; so, she's really got to pull this off. There are many that have criticized her acting talent, and in this case she may have bitten off more than she should have. But, I can say that the Jessica Alba of 2005 would probably not have done as well with the material. I give her credit for the effort.

I also found the changes in cast somewhat jarring. There weren't any inside jokes about how Dwight looked different (if you don't consider his plastic surgery later in the movie is an inside joke). The differences here are pronounced. Dwight was previously played by Clive Owen is now played by Josh Brolin. There are different energies at work with these two actors, and even after nine years it didn't feel the same. You'll pickup on others, but the biggest for me was the character Manute. You might remember Michael Clarke Duncan played that role in the first Sin City, and since his passing, Dennis Haysbert (the guy from Allstate commercials) has the role. I really made an effort to roll with Haysbert, but he couldn't match the menace that Duncan had. Actor changes can be tricky at times even if the filmmakers had no choice.
At 102 minutes, A Dame To Kill For is not overly long on paper, but it felt more like 150 minutes. Much of that blame can probably be laid on the structure of vignettes that end and another begins. When that happens, it feels like time is stretching and the movie is extending. This is something like an optical illusion. That's not necessarily a bad thing, but I wouldn't think a filmmaker wants his movie to "feel" too long.
The best thing about A Dame to Kill For has to be Eva Green. In every single scene she's a force to be reckoned with. You feel her menace, and see why men easily fall prey to her manipulation. Eva embodies this character both physically and mentally. Unfortunately, we're not given enough to understand why she is such a menace to all the men she encounters, so the character feels less whole. If anyone could make me forget that, Eva Green could. This is an actor to watch.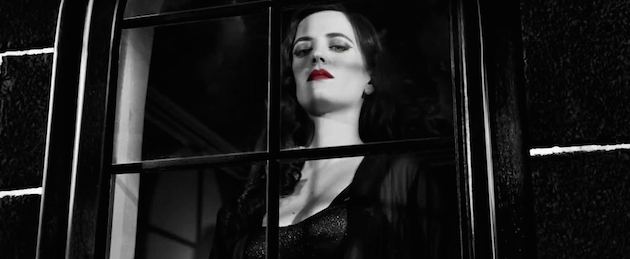 More Marv is a welcome sight too. I really loved this character in the first movie, and Mickey Rourke plays him just as well here. We're not really given much more about Marv himself, but it was great to see him back, confused and smashing faces. A Marv vs Manute showdown should have been a much better moment, but it was still one of the brighter spots of A Dame To Kill For.
There are some twists and turns here, but many of them fall flat in the moment. When we're lead up to a moment that's supposed to pay off big, it's almost handled with a perfunctory effort from the actors (that you see). A great deal of things could be to blame for that, including all the green screen the actors would have had to endure. In the first movie, there was real menace in Senator Roark, here he feels like a chump who sucks at poker and has useless goons.
If you have an eagle eye, you'll see some nice small touches. A small cameo with Miller and Rodriguez playing what look like hobos on a television was cool. The world of Sin City is a serious throwback with old school telephones and less technology. Even the cars are old with what looked like a 1968 Mustang and Marv drivin a Tucker (from 1948?). This aged sensibility makes the world feel that much more gritty. This is a place that has no smooth edges. I also thought I noticed messages in the shadows foreshadowing events to come later. I might have to see the movie a second time to pick up on those.
With the same stylize violence and some very familiar characters, many will consider Sin City: A Dame to Kill For a worthy sequel. I don't think this view will hold up over time (and on repeat viewings), but I could be wrong. I found the movie to be a safe sequel with not much new or interesting brought to the (poker) table. There are also plot points and characters hinted at that probably should have has some attention, but went just nowhere. A missed opportunity.
2.5/5
Sin City: A Dame to Kill For is directed by Frank Miller and Robert Rodriguez. The sequel to 2005's Sin City stars Mickey Rourke, Jessica Alba, Josh Brolin and Joseph Gordon-Levitt.