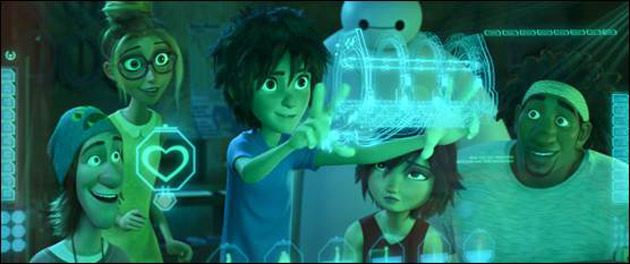 Disney has released their third trailer for Big Hero 6. The film is a loose adaptation of the Marvel Comics series of the same name. It will use the same characters, but the film's setting and story are entirely original.
The film centers on Hiro, a young prodigy who builds a bond with Baymax, a healthcare robot created by his older brother Tadashi. When a nefarious masked man named Yokai takes Hiro's Mircobot invention for villainous purposes, it's up to Hiro, Bayman, and their friends to suit up and stop him.
We've shown you some fascinating things about Big Hero 6, and even got to talk to the directors about the film. The third trailer, which has even more new footage, and scenes not shown to the press during the early screening. Hit the jump to check it out.
Featuring the voices of Scott Adsit, Ryan Potter, Daniel Henney, T.J. Miller, Jamie Chung, Damon Wayans Jr., Genesis Rodriguez, James Cromwell, Alan Tudyk, and Maya Rudolph, Big Hero 6 opens in theaters on November 7.
Here are some new images from the film.
From Walt Disney Animation Studios, the team behind "Frozen" and "Wreck-It Ralph," comes "Big Hero 6," an action-packed comedy-adventure about the special bond that develops between Baymax (voice of Scott Adsit), a plus-sized inflatable robot, and prodigy Hiro Hamada (voice of Ryan Potter). When a devastating event befalls the city of San Fransokyo and catapults Hiro into the midst of danger, he turns to Baymax and his close friends adrenaline junkie Go Go Tomago (voice of Jamie Chung), neatnik Wasabi (voice of Damon Wayans Jr.), chemistry whiz Honey Lemon (voice of Genesis Rodriguez) and fanboy Fred (voice of T.J. Miller). Determined to uncover the mystery, Hiro transforms his friends into a band of high-tech heroes called "Big Hero 6."

Inspired by the Marvel comics of the same name, and featuring breathtaking action with all the heart and humor audiences expect from Walt Disney Animation Studios, "Big Hero 6" is directed by Don Hall ("Winnie the Pooh") and Chris Williams ("Bolt"), and produced by Roy Conli ("Tangled"). The film hits theaters in 3D on Nov. 7, 2014.