It's been a long road for the cast and crew of the Fast and Furious 7 film, but with the release date just a couple of months away, Universal is shifting to kick their marketing campaign for the film into high gear. Now, I said Fast and Furious 7 film because that is not the official title to the highly anticipated sequel. Today the studio announced that the film will be called Furious 7.
Universal is also kicking off their marketing campaign called 7 Days To 7, which will lead up to the release of the first trailer for Furious 7. Hit the jump for more details.
Here's what Universal posted on the film's official Facebook page:
Because of our fans, our saga has grown bigger and better with every chapter. In just 7 days, we will reveal the first trailer for our next installment – FURIOUS 7 – at The Road to Furious 7: Trailer Launch Event at Universal Studios in Los Angeles!

We want to share this moment with all of our fans around the world. For those of you not able to attend in person, you'll be able to follow a live broadcast starting at noon Pacific on the Fast & Furious Facebook page and on E!. For those in the Los Angeles area, tickets will be available starting tomorrow, October 27th, on the official Fast & Furious social pages.

Starting today, you can submit questions for Vin Diesel, Michelle Rodriguez, Jordana Brewster, Tyrese Gibson, Chris "Ludacris" Bridges, and Jason Statham to be answered at the live event. Go to Instagram and submit a video, asking your favorite Fast & Furious star your question while using the hashtag #AskFurious7. Or, simply write your question in the Comments section below. Your question could be answered live on-air!

For our extended FAST & FURIOUS family, we have set out to make the very best movie yet. We are excited to continue our journey together.
Here's the official look at the poster released on the film's Facebook page: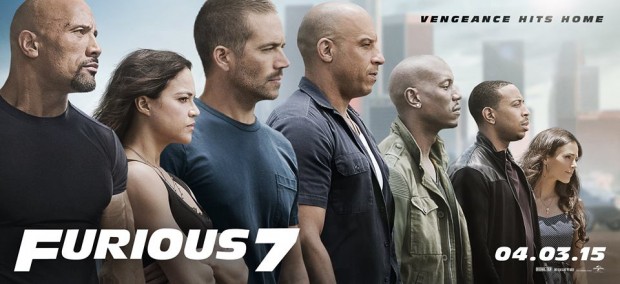 So it's an exciting start to what will be a very interesting marketing campaign. We'll be sure to post the trailer as soon as it launches. Vin Diesel, Michelle Rodriguez, Jordana Brewster, Tyrese Gibson, Chris "Ludacris" Bridges, and the late Paul Walker star in the film, and they will be joined by Jason Statham, Tony Jaa, Ronda Rousey, Djimon Hounsou, and Kurt Russell. Furious 7 opens in theaters on April 3, 2014.