As a huge Star Wars fan, today's reveal of the new trailer for Star Wars: Episode VII – The Force Awakens, J.J. Abrams' continuation of the sci-fi action saga, is beyond amazing in my opinion. I never knew in my lifetime I would ever see any sequels to the "Original Trilogy" and this trailer is proof that it's not just in my imagination, even though we don't get any real face time with the likes of Han Solo, Princess Leia or Luke Skywalker yet. Regardless, this trailer shows that we're moving in the right direction with the new Star Wars universe of stories. Check out the trailer below along with a breakdown of all that we saw with helpful screen shots.
Here the 88 second teaser that takes us back to a time not long ago in a galaxy far, far away.
Wow!! Doesn't that whet your appetite for Sith Lords, spaceships and robots…oh, my? Let's go through the trailer and breakdown all the cool things we saw.
We get our first glimpse of actor John Boyega in a Stormtrooper outfit on Tatooine and he looks like he's confused or scared or both. We get the narration saying, "There has been an awakening. Have you felt it?" You can hear the sound of possible probe droids in the sound mix, so maybe he's being hunted by what's left of the Empire.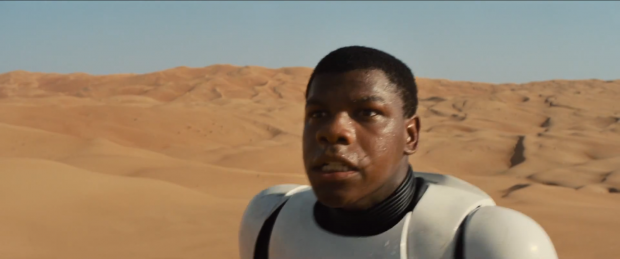 Then we get to see a new type of Star Wars robot. A droid with a head that magnetically stays with its main "rolling ball" body. A pretty cool new addition to the universe, if you ask me.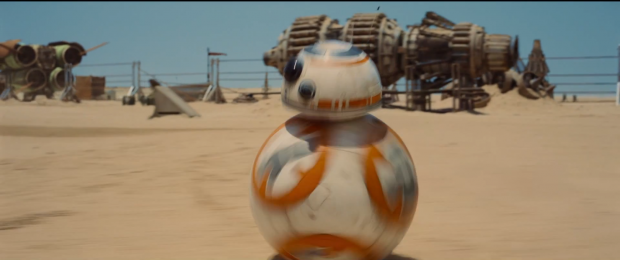 Then we find ourselves on a small ship full of Stormtroopers with the new type of design that leaked online.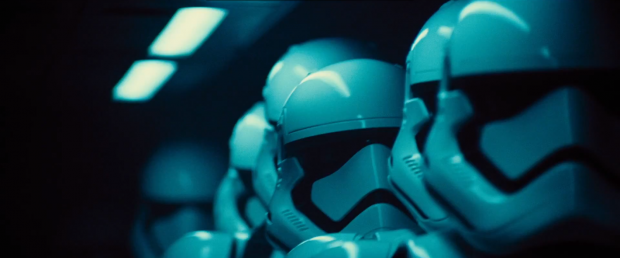 They seem to be landing on a planet at night as they prepare their guns and the door to the craft opens up for them to exit. I'm curious as to what planet this might be.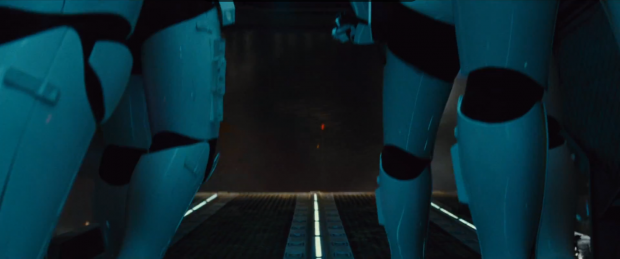 Then, we get our first reveal of Daisy Ridley's character back on Tatooine. She starts up a new type of land speeder and races off. She seems to be escaping something, because she looks back at the beginning before she jets off through the desert.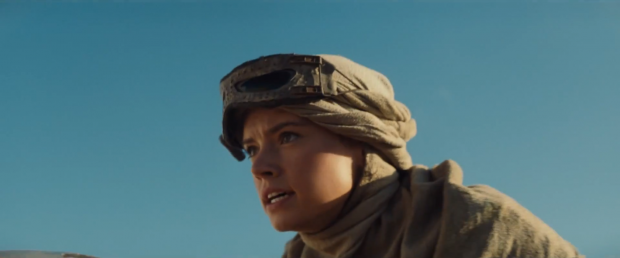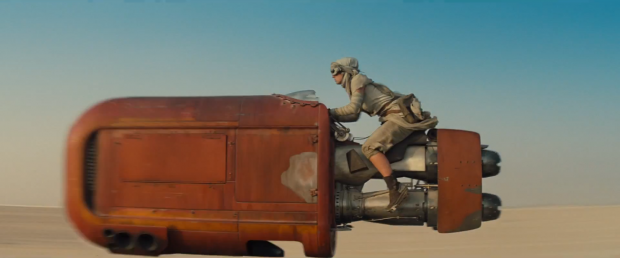 Then we get to see Oscar Isaac as an X-Wing Pilot as he races across a body of water with a couple of other X-Wing Fighter ships. His face looks a little bruised up, so it makes you wonder what he did to get those injuries.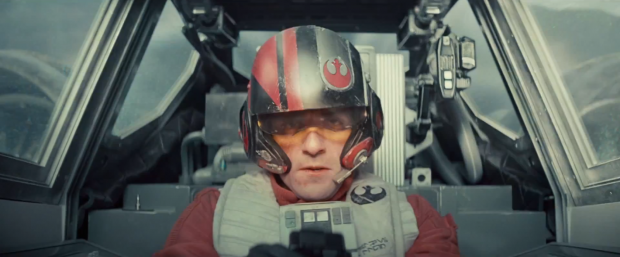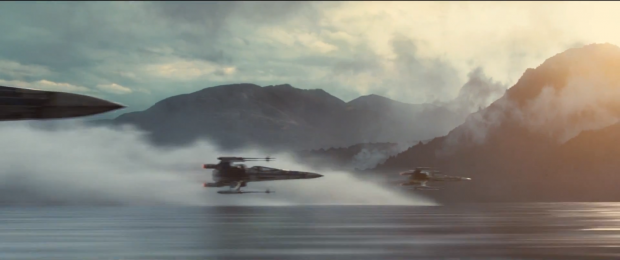 Then, we get our first glimpse of the movie's villain as he walks through a snowy forest in a black cloak. Could this place be on Hoth?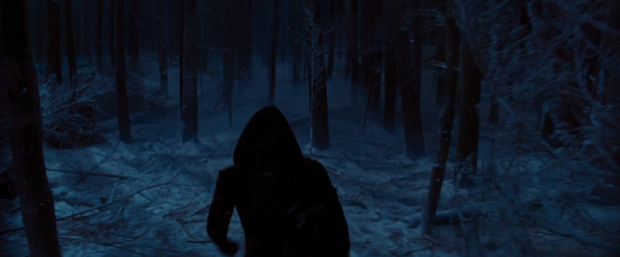 After we hear the villain say, "The Dark Side",  he reveals a new type of lightsaber, where the hilts are mini-lightsabers as well. This seems to be a very unsafe weapon for anyone to wield, but I guess if you're a Sith Lord, you don't care about safety.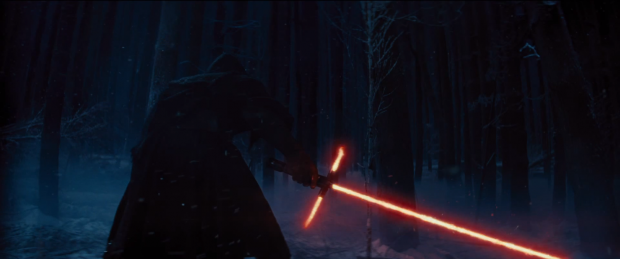 At the end of it, he says, "And the light." Then, we get the true money shot of the trailer as we see the Millennium Falcon for the first time as it does a roll and flies by Tie Fighters that are firing at it. Does this mean the person piloting the Falcon is a Jedi?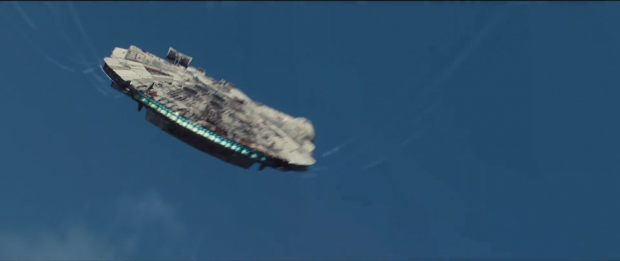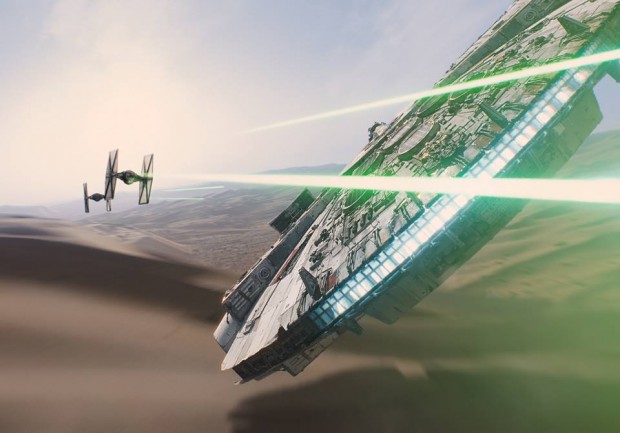 Then, it goes to the title!!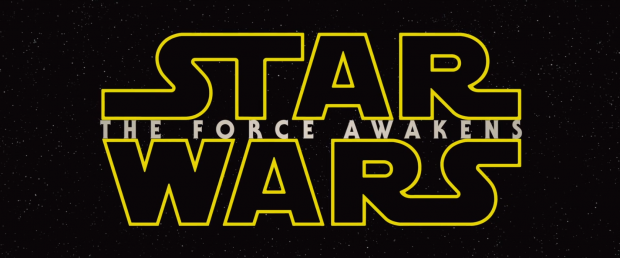 So what did you think about the new trailer? My only beef is that we didn't see the original cast anywhere in it, but I think it shows enough to make you want more. I feel like a kid again just watching this.
Did you catch any additional details or easter eggs that we didn't find? Was there something you wanted to see in it that they didn't deliver on? Leave your thoughts and first impressions in the comment section below.
Star Wars: Episode VII – The Force Awakens hits theaters on December 18th, 2015. Directed by J. J. Abrams the film stars Harrison Ford, Mark Hamill, Carrie Fisher, John Boyega, Adam Driver, Daisy Ridley, Oscar Isaac, Andy Serkis, Domhnall Gleeson, Gwendoline Christie, Lupta Nyong'o, Warwick Davis, Peter Mayhew, Max von Sydow, Anthony Daniels, and Kenny Baker.
You can check out the Star Wars website for further info on the film and you can follow the movie on Twitter and like it on Facebook as well.