The official site for SkyDance Productions, Paramount Pictures, and Warner Bros. Pictures' highly anticipated sequel, Terminator Genisys, has come online. A countdown to the trailer debut along with a motion poster have also been revealed. Hit the jump to check it out!
The site displays a living poster, which turns into the countdown. The poster starts off as the iconic image of the T-800 model Terminator, but the machine's face quickly degrades to dust, and as the dust accumulates at the bottom, it essentially becomes an hourglass sand timer, with the trailer looking to debut this Thursday.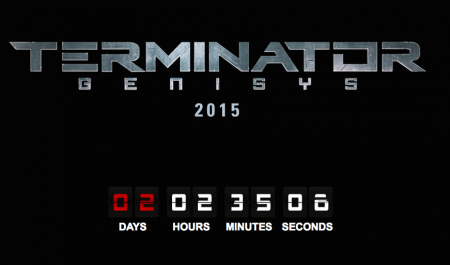 Fans of the revered sci-fi franchise have been waiting for the viral marketing to finally begin, with details of the film being revealed a few weeks ago in 'Entertainment Weekly'.
Starring Arnold Schwarzenegger, Jason Clarke, Emilia Clarke, Jai Courtney, J.K. Simmons, Dayo Okeniyi, Byung Hun Lee and Matt Smith, 'Terminator Genisys' is directed by Thor: The Dark World's Alan Taylor from a screenplay by Laeta Kalogridis and Patrick Lussier.
You can check the website out for the official trailer on Thursday!
Terminator Genisys opens July 1st, 2015.