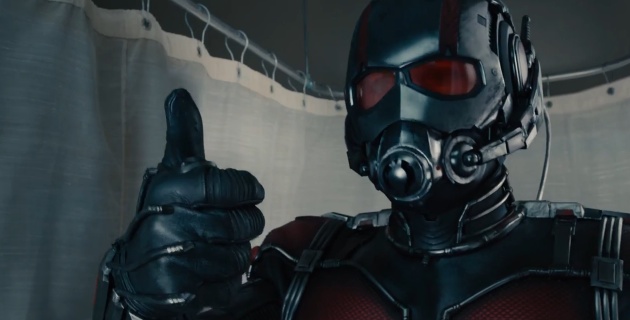 The first full trailer for Marvel Studios' Ant-Man made its debut on the pilot episode of Marvel's Agent Carter. Starring Paul Rudd as Scott Lang and the titular character, the film will act as a filler between the end of Phase Two and the start of Phase Three. Evangeline Lilly, Corey Stoll, Michael Douglas, Bobby Cannavale, Michael Pena, Judy Greer, and Tip "T.I." also star.
Hit the jump to check it out.
Now this trailer offers a better look at the suit in action than what we previously saw at Comic-Con. Like the Marvel Studio films that came before, Ant-Man won't just be a superhero film, instead it will have a spin to it. Peyton Reed (who replaces Edgar Wright who left the project due to creative differences) directs. The film opens on July 17.
The next evolution of the Marvel Cinematic Universe brings a founding member of The Avengers to the big screen for the first time with Marvel Studios' "Ant-Man." Armed with the astonishing ability to shrink in scale but increase in strength, master thief Scott Lang must embrace his inner-hero and help his mentor, Dr. Hank Pym, protect the secret behind his spectacular Ant-Man suit from a new generation of towering threats. Against seemingly insurmountable obstacles, Pym and Lang must plan and pull off a heist that will save the world.
Marvel's "Ant-Man" stars Paul Rudd as Scott Lang aka Ant-Man, Evangeline Lilly as Hope Van Dyne, Corey Stoll as Darren Cross aka Yellowjacket, Bobby Cannavale as Paxton, Michael Peña as Luis, Judy Greer as Maggie, Tip "Ti" Harris as Dave, David Dastmalchian as Kurt, Wood Harris as Gale, Jordi Mollà as Castillo and Michael Douglas as Hank Pym.
Peyton Reed directs Marvel's "Ant-Man" with Kevin Feige producing and Louis D'Esposito, Alan Fine, Victoria Alonso, Michael Grillo, Edgar Wright and Stan Lee serving as executive producers. Marvel's "AntMan" delivers a high-stakes, tension-filled adventure on July 17, 2015.