With only a few months until the new Jurassic World movie hits theaters, Universal Pictures just added an interesting feature to the movie's website. It now has a Park Cam page, where you can view live feeds from the dinosaur park. After the jump, you can find out more about these cams and the direct link to check it out for yourself.
The Jurassic World Park Cam page (previewed in the pic below) has about 14 cameras though out the movie's park.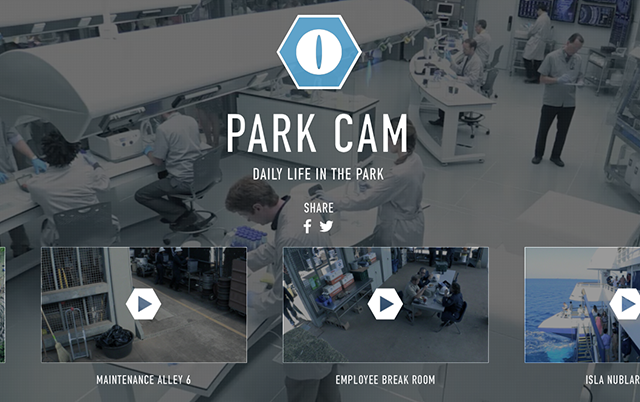 The link to the page is here. You can see live feeds from areas like the Gyrosphere Line to the Creation Lab to a restaurant called Winson's Steakhouse. There's even one cam called Gentle Giants Enclosure, where you watch a guy shoveling dino poop into the back of a vehicle.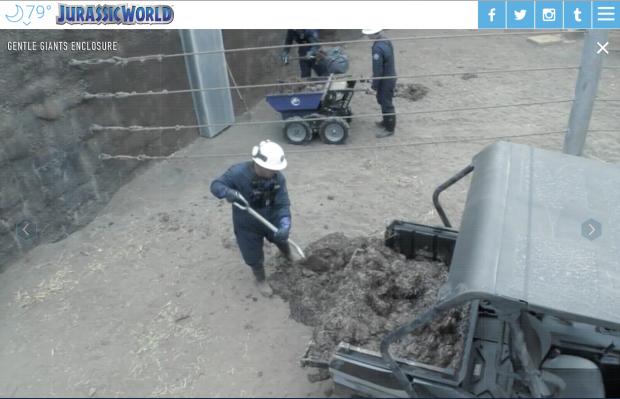 I watched all the current feeds before I wrote this article and there's nothing really that interesting in any of them yet. There's not even the sight of any dinosaurs, but I'm assuming at some point they'll add more stuff.
At the top of the Park Cam page, they have the current temperature at the park and if you click on that, a pop down menu appears. The menu shows you stuff like the current park capacity, wait times, "Did You Know?" trivia, ticket packages and even a link to the corporation that owns the Jurassic World park. We reported on that fake corporate link back in November.
Although right now there doesn't seem to be a lot going on via the cameras, we'll keep you updated, if the live feeds change anytime soon.
Jurassic World will be unleashed on the public on June 12th, 2015 via 2D, 3D and IMAX theaters. The movie is directed by Colin Treverrow and stars Chris Pratt, Bryce Dallas Howard, Ty Simpkins, Jake Johnson, Nick Robinson, Irrfan Khan, Vincent D'Onfrio, BD Wong, Omar Sy, Judy Greer, Katie McGrath, Lauren Lapkus and Andy Buckley.
To stay updated on the film, you can follow Jurassic World via its social media accounts on Twitter, Facebook and Instagram.