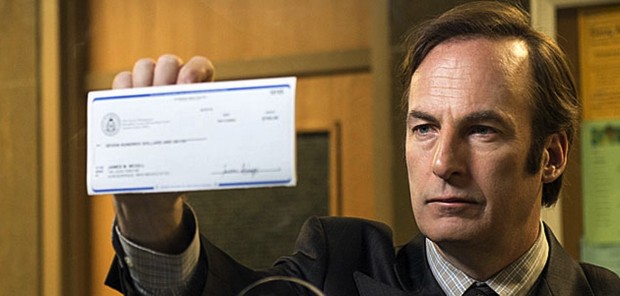 In the Breaking Bad episode "Granite Slate," Saul Goodman (Bob Odenkirk) predicted his own fate of managing a Cinnabon somewhere in Nebraska after the collapse of Walter White's meth empire. The series premiere of Better Call Saul opened with the titular character changing his name from Saul to Gene, and managing a Cinnabon in Omaha, Nebraska. "I just wrote that scene and it sounded funny, but it never occurred to me in a million years that we'd actually show what we show at the beginning of episode 1," says Bad writer and Saul co-creator Peter Gould.
Cinnabon spokeswoman Loryn Franc was just as shocked as everyone else to hear the once slick lawyer make such a specific prediction.
Now, hours after the series aired its pilot episode, and moves to its regular time slot Mondays at 10pm, Cinnabon is offering a sweet deal to its customers by giving away one free minibon. And there is a lot more to it than just free food. Hit the jump for more.
Per USA Today, "the real Cinnabon chain will give away one free mini-bon per person at its 704 U.S. locations on Monday between 5 and 9 p.m. (local time), packaged in Saul-themed boxes." At least we won't have to travel to the Omaha location to get this deal.
But that is not all, Monday through March 3, visitors who tweet a selfie at the stores using the hashtag #SaulSelfie will be entered in a sweepstakes to win a year's supply of Cinnabon baked goods.
There will also be three prize winners weekly that will receive $100 Cinnabon gift cards.
While Better Call Saul may already have a built-in fan base because of Breaking Bad, this will obviously benefit Cinnabon, as it will give those an opportunity to didn't know about the franchise or weren't will to eat it try out their product.